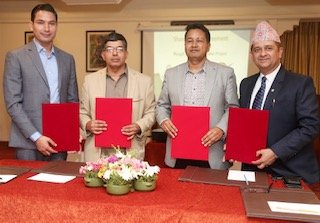 The government-owned Hydroelectricity Investment and Development Company Ltd (HIDCL) is injecting 20 percent equity investment in Myagdi Khola hydropower project of Hydro Village Private Limited (HVPL). With the aim of expanding hydro energy investment in Nepali market, HVPL was established in 2015.
CEO of HIDCL Arjun Kumar Gautam and Chairperson of HVPL Capt. Rameshor Thapa signed an agreement for the equity investment in 57.3MW Myagdi Khola hydropower project at an event in the capital. The project is estimated to cost around US$100 million.
As per HIDCL's broader objective to mobilize funds for investment in generating, transmitting and distributing hydroelectricity in a public-private partnership model, the company has made this decision. It is the fourth investment by HIDCL in a project developed by Independent Power Producers, since its establishment in 2011. HIDCL has been recognized by the government of Nepal and the Central Bank (Nepal Rastra Bank) as a financial institution and has the mandate to invest financial resources for the generation, transmission and distribution of hydroelectricity in Nepal.
"We are positive to invest in promising hydropower projects like this one," CEO Gautam said speaking at the event. He further said, "We are confident in the timely completion of this project". Deputy CEO of HIDCL Arun Rajauria stated that the technical parameters of the project were well investigated and has the potential to meet global standards. "The project site is situated only 17 km from the sub-station which adds more value," he said. Similarly, the chairperson of HVPL Thapa stated that the development of the hydropower project was directly related to the economic growth of the country.
Speaking at the event, Sushil Pokharel, Managing Director of the HPVL said, "Currently we are undergoing road construction to extend the road to the project site." He further said that the completion of the road construction will come as a huge relief for the local community. "We are closely following sustainability development guidelines to promote greater integration of environmental, social and economic aspects," he said. He also stated that the project was going to lead the path for sustainable hydropower projects in Nepal in the future.
HVPL has already signed a Power Purchase Agreement (PPA) with Nepal Electricity Authority (NEA) and has obtained the generation license for the period of 35 years. The project will have an annual average generation of around 335GWh.
---