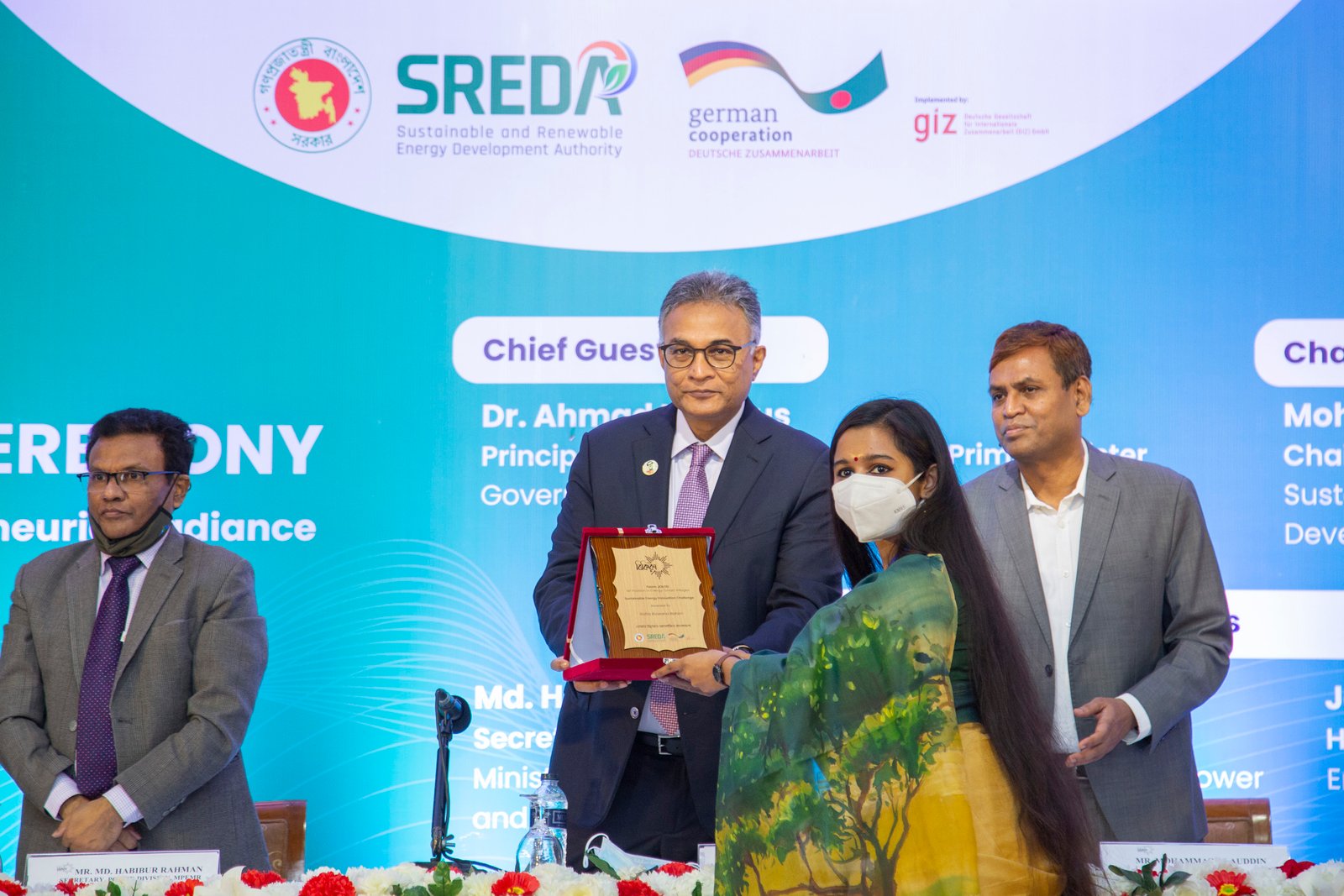 Dhaka, Dec 2, 2021 (PR) - Sustainable and Renewable Energy Development Authority (SREDA) in cooperation with Renewable Energy and Energy Efficiency Programme (REEEP II) organized a national competition titled 'Bikiron' to create awareness among university students about energy efficiency and conservation and encourage them in conceiving innovative ideas. The closing ceremony of Bikiron was held on today.
The Deutsche Gesellschaft für Internationale Zusammenarbeit (GIZ) GmbH is implementing REEEP II on behalf of the German Federal Ministry for Economic Cooperation and Development.
SREDA has been taking various initiatives to spread awareness on energy efficiency and conservation. As part of Mujib Borsho celebrations, SREDA launched a nationwide awareness campaign titled "Shasroye Jalani, Shomriddho agami (save energy, brighten your future)". Bikiron was organized as part of this campaign.
The State Minister of Ministry of Power, Energy and Mineral Resources Nasrul Hamid MP, inaugurated the competition on September 9, 2021. Innovative solutions were invited through www.bikiron.org from university students on three categories: increasing energy efficiency in residential and commercial buildings (Energy-Smart Buildings), improving quality of life using sustainable energy technology in rural areas (Energy-Smart Villages), and making children and adolescents aware of energy conservation (Energy-Smart Children). The teams had the opportunity to further strengthen their ideas with the help of renowned experts from the sustainable energy sector. Three webinars for each category were organized for their capacity development.
More than 100 teams from universities across Bangladesh submitted their ideas. After a rigorous screening process, 23 teams made it to the final round. On 11 November, they presented the ideas to a jury board comprised of public and private sector experts and academia. The winners were announced on the same day.
The winning teams pitched their ideas to the audience during the event. From a cooling solution for coastal fisherman, to an innovative metering system for buildings, and a proposal for creating an energy toolkit for children – the ideas were diverse and received appreciation of the audience. The ten winning teams of the competition were handed over awards and certificates during the event.
The closing ceremony was organized to recognize these young aspiring innovators, and also to provide them guidance in their entrepreneurial journey. Sonia Bashir Kabir, Founder, SBK Tech Ventures and Koen Everaert, Team Leader, Green Inclusive Development and Social Protection, EU Delegation spoke about the challenges and opportunities in taking a sustainable energy idea from ideation to implementation from a Bangladeshi and Global Perspective respectively.
The event was presided over by Mohammad Alauddin, Chairman, SREDA. Dr. Ahmad Kaikaus, Principal Secretary to the Hon'ble Prime Minister of Bangladesh graced the event as Chief Guest. Md. Habibur Rahman, Secretary, Power Division, Satyajit Karmaker, Chairman (Secretary), Bangladesh Energy & Power Research Council (BEPRC) and Johannes Schneider, Head of Development Cooperation, Embassy of the Federal Republic of Germany, Dhaka, graced the ceremony as Special Guests.
---