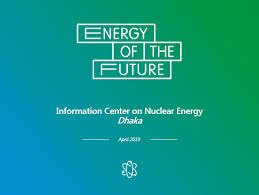 Inspired by the success and positive feedback from participants the Information Center on Nuclear Energy in Dhaka (ICONE Dhaka) with the support from Russia's state atomic energy corporation- Rosatom has added new educational activities to its online lineup in May.
These new events include discussion sessions with nuclear industry professionals on progress of works at Rooppur Nuclear Power Plant, careers in nuclear industry in Bangladesh, basic operational and safety systems of NPP and others. A lecture session and quiz competition on NPP operation is also in the card. Participants will have the opportunity to have a virtual trip to the information center on nuclear energy itself. During the virtual trip one will be able to know in details about ICONE- its features and exhibits, their functions, ICONE development plans etc. Suggestions for further development of the center will be received from the participants.
ICONE Dhaka plans to introduce an online course for teacher who are willing to further develop their nuclear knowledge. The online course pursued by MEPhI, a world renowned nuclear institute of Russia will be adapted for Bangladesh. This course will include questions, including those asked by people of Ishwardi on sources of radiation, radiation and ecology, the history of the nuclear industry and others. After completing the course, the teachers will be able to conduct similar courses for their students.
In order to participate in these events interested people are requested to visit https://www.facebook.com/iconedhaka/.
---