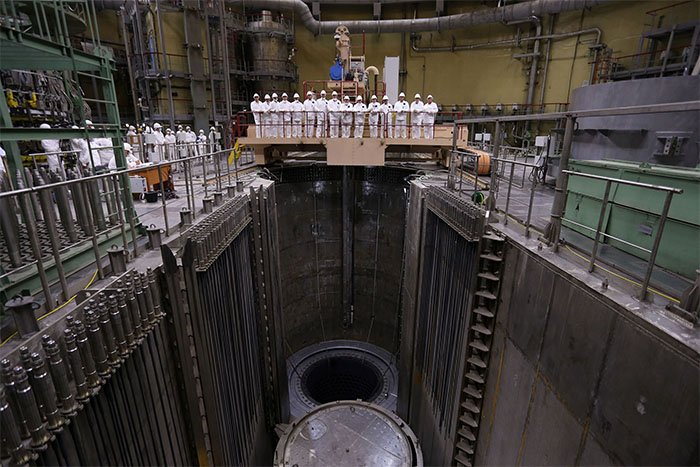 The first set of 163 nuclear fuel assemblies has been loaded into the VVER-1200 reactor of power unit 2 at Leningrad NPP-2 in Russia, a reference unit of Rooppur Nuclear Power Plant in Bangladesh. Fuel loading marks the beginning of the physical start-up of a NPP. The plant is operated by Rosatom's Electric Power Division Rosenergoatom.
Rosenergoatom's Director General Andrei Petrov noted, "Beginning of physical start-up means that all works associated with construction of the unit are complete."
Once the fuel loading is completed, the reactor will be brought to a minimum controllable power level (up to 1%). The physical launch will be followed by the power start-up, trial operation, and integrated testing. The power unit is scheduled to be commissioned in 2021. It will replace the RBMK-1000 reactor-equipped power unit 2 of Leningrad NPP-1, which will be shut down at the end of this year after 45 years of service. The VVER-1200is the flagship of Rosatom's Generation 3+ PWR-type reactor and the world's only Generation 3+ design in serial construction. Unit No. 2 at the Leningrad-2NPP is going to be the fourth in the series following units No. 1 and 2 at theNovovoronezh-2 NPP, launched in 2016 and 2019 respectively, and unit No. 1 at the Leningrad-2 NPP, launched in 2017.
The innovative Generation 3+ power unit, equipped with the VVER-1200 reactor, has a number of advantages compared to its previous generation (VVER-1000): it is 20% more powerful; number of personnel operating the reactor is less by 30-40%; and the lifetime of the reactor is double i.e. 60 years, with the provision of extending by another 20years.
Countries that have opted for this technology are Finland, Hungary, China, Bangladesh, Belarus, Turkey and others. Rosatom's international order book currently comprises 36 power units at various stages of implementation in 12 countries.
---