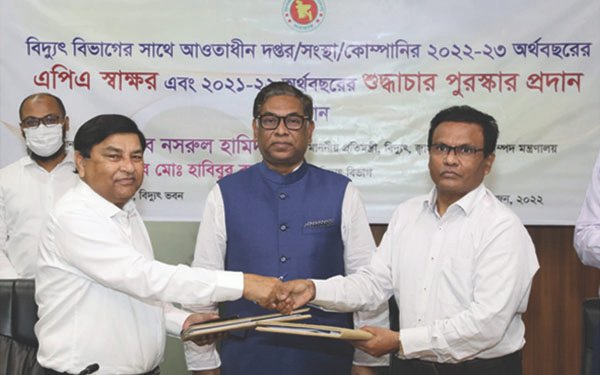 State Minister for Power and Energy Nasrul Hamid has urged the officials concerned to ensure quality supply of electricity to consumers' level.
He made the call to power sector officials during annual performance agreements (APA) between Power Division and its offices, agencies and companies recently.
The state minister said the APA is a responsibility profile of the government officers and discharging of their duties.
He urged the officials to work sincerely, which will take the Power Division to the top position again.
Power Division's additional secretary Md. Mohsin Chowdhury, Northern Electricity Supply Company Ltd managing director Md Zakiul Islam, administrative officer Md Anisul Huq and office assistant Afroza Akter secured integrity award for the fiscal year 2021-22.
Power secretary Md Habibur Rahman presided over the function attended by BPDB chairman Md Mahbubur Rahman and Power Cell Director General Mohammed Hossain.
---