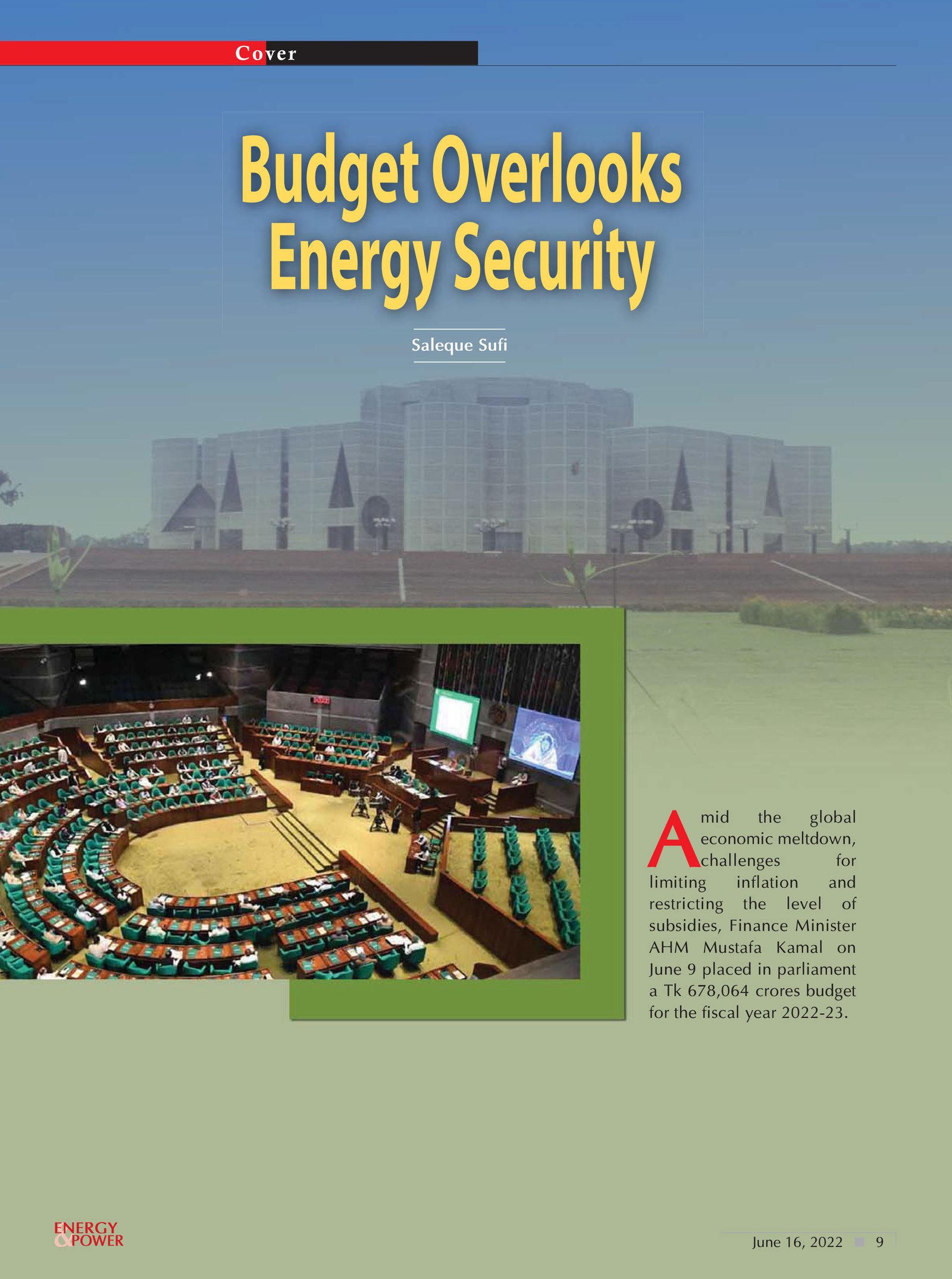 16th June 2022
Saleque Sufi
Amid the global economic meltdown, challenges for limiting inflation and restricting the level of subsidies, Finance Minister AHM Mustafa Kamal on June 9 placed in parliament a Tk 678,064 crores budget for the fiscal year 2022-23. Almost all concerned have appreciated the plans proposed for the economic recovery from fallouts of the COVID-19 pandemic coupled with the issues, triggered by the Ukraine crisis, like sky-rocketing prices of energy and essential commodities. In the case of Bangladesh, there are even more challenges like the creation of jobs, giving incentives to export-oriented industries, invigorating internal resources through expanding the tax net and increasing remittance by sending trained professionals for working abroad. Every country does not matter, developed, developing, or least developed, is struggling to keep the pace of economic development. Countries need to maintain the foreign currency reserves staying at a comfortable level for meeting the expenses of imports as export earnings, and remittance inflows are under challenge as well. We have to bear in mind all these while reviewing the proposed budget. We know economists, academics, researchers and political activists are critically analyzing the budget from different aspects.
However, a smooth supply of quality power and energy is essential for the development of every sector – be it education, agriculture, health and communication, or industries. To ensure that there is no alternative to expedite the country's fuel exploration and development for increasing its contribution to the fuel mix. Bangladesh can neither absorb the price shock of the turbulent global energy market nor continue paying high subsidies. It is also not possible to adjust power tariffs and fuel prices too often as that will adversely impact economic development. Bangladesh needs to ensure a sustainable supply of quality modern power and energy to all at an affordable cost. It also has to care for the environment. The proposed budget for FY 2022-23 has, however, not given enough attention to exploration, modernization of power and energy value chain for enhancing efficiency in the sector.
Main Features of the Proposed Budget
The budget estimated an income of Taka 4 lakh 38 thousand crore. The target for the National Board of Revenue has been set at Taka 3 lakh 70 thousand crore and outside NBR Taka 18 thousand crore. Non-tax revenue earnings have been estimated at Taka 45 thousand crores. Economists, however, termed the estimates highly ambitious and extremely difficult to achieve.
It's a deficit budget of Tk 245,064 crores and financing the deficit will be a major challenge. Many have raised questions about whether the Finance Minister FM forgot the maxim "Cut your coat according to your clothes."
In his budget speech, the minister talked about major objectives such as creating a self-reliant economy, providing huge subsidies for keeping the economy rolling, incentivizing local industry, and discouraging imports. He mentioned his main challenge would be limiting inflation to 5.5-5.6%. Economists have, however, wondered whether the inflation is above 10% now.
Power, Energy Sector in the Budget
Finance Minister AHM Mustafa Kamal proposed an allocation of BDT 26,066 crores for the Ministry of Power, Energy and Mineral Resources for the next fiscal year, which was Tk 27,484 crore in the outgoing fiscal year. The minister reiterated the government's commitments to provide electricity access for all and ensure an uninterrupted and sustainable power supply across the country. He mentioned the national policy goals of graduation to the upper-middle-income country by 2031 and a high-income one by 2041. No one will deny that the power sector made milestone achievements by bringing the entire nation under the power supply. The installed capacity including captive generation and import is now 25,556MW. As far as generation is concerned, there is enough surplus and the government is paying huge capacity charges for keeping a high percentage of generation capacity going idle. Adding to the cost of generation, this is acting as a huge menace for subsidy requirements. The Finance Minister, however, did not mention why the power sector is still struggling to ensure quality power supply on an uninterruptible basis to all at an affordable cost? Bangladesh needs to spend a fortune upgrading, modernizing power transmission and distribution networks, and most importantly harnessing its own petroleum resources. The minister's speech did not address how the increasing reliance on imported fuel (coal, LNG and liquid fuel) would be limited by increasing the contribution of own fuel (gas, coal and renewable resources). He mentioned the implementation of mega projects (Payra, Rampal, Matarbari and Rooppur), and power transmission lines for evacuating power from new sources. There was no mention of the financial impacts of mega projects and the resource mobilization for meeting the costs of imported fuel (coal, LNG, uranium).
The minister spoke about 2525 MMCFD of gas production from the country's source considering it a huge achievement in 13 years of this government. The production capacity was 1788 MMCFD in 2009. He should have realized that most of the increase came from already discovered gas fields and more particularly from a single field Bibiyana operated by Chevron. His government failed to take political decisions on exploiting coal resources. The government also could not expedite the exploration of petroleum resources onshore and offshore. The BAPEX-only policy for onshore exploration has failed to achieve the objectives. Bangladesh virtually achieved nothing from the Blue Economy. Exploration activities could not even start in the deep water though the government considers the resolution of maritime boundary disputes with Myanmar and India as a major milestone success.
The budget speech did not recognize the major depletion of the proven gas reserves with the possibility of entire gas resources going dry by 2031. Major depletion has already started giving a wake-up call. Experts are repeatedly reminding the government to provide special budgetary allocations for exploration and clear guidelines on how the fuel supply deficits would be managed. Bangladesh is importing 600-753 MMCFD LNG as per the speech. The price of LNG both in the spot market and under long-term contracts is soaring. Most of the allocations for the energy sector would be required for spending on LNG imports. By the end of 2022, there is the possibility for local production to be further depleted. There is no possibility of increasing LNG import in less than 1.5-2 years. The Finance Minister must have allocated a special fund for exploration. Bangladesh desperately needs to go all out for gas exploration to find new resources. His speech should have included a clear plan for deep water gas exploration as well as plans for an LNG import program including land-based LNG terminal construction. The minister's speech also did not include how Petrobangla companies would eliminate theft, pilferage and wastage of gas. What will be a rational gas utilization plan? It mentions further adjustment of gas price and power tariff. But without elimination of theft and pilferage and ensuring austerity of use, it will be a huge challenge for Bangladesh to ensure a sustainable supply of power and energy. The budget speech has no mention of energy conservation and efficiency. Another aspect that is missing is the lack of occupation, health and safety (OHS) across the power and energy supply chain.
Enhancing the capacity of ERL should have been accomplished much earlier. The implementation of a special mooring project of BPC is prolonged, same is the case with the Chattogram-Dhaka liquid petroleum pipeline and pipeline from the Eastern Refinery to Northern Bangladesh. These must be expedited to derive benefits.
The budget speech missed a roadmap on how Bangladesh would gradually move out of expensive liquid fuel dependency as more and more coal-based large-capacity power plants are coming into operation. Bangladesh can ill afford to pay capacity charges for idle capacity.
Conclusion
The lawmakers are expected to critically analyze the proposed budget given the global challenges and Bangladesh's priorities. The country has to keep the wheels of the economy rolling. For that, the prime need is to ensure sustainable energy security. Given the global scenario, Bangladesh cannot let its energy security grow being increasingly reliant on imported fuel. Given the general election knocking at the door, it would not dare decide on coal exploitation now. But for managing subsidy requirements for the energy sector, it must expedite the exploration and development of petroleum resources. A special allocation must be given to Petrobangla as grants for exploration through adjusting allocations to other less-priority sectors. Otherwise, industry, commerce, education, health, communications and all other sectors would struggle due to a lack of sustainable and reliable energy supply. Investors may not risk investment in an uncertain energy scenario. Without a major increase in domestic fuel contribution, the government will require accounting for a huge subsidy. Necessary allocations must also be given to the renewable energy sector for achieving desired targets of the NDC.
---