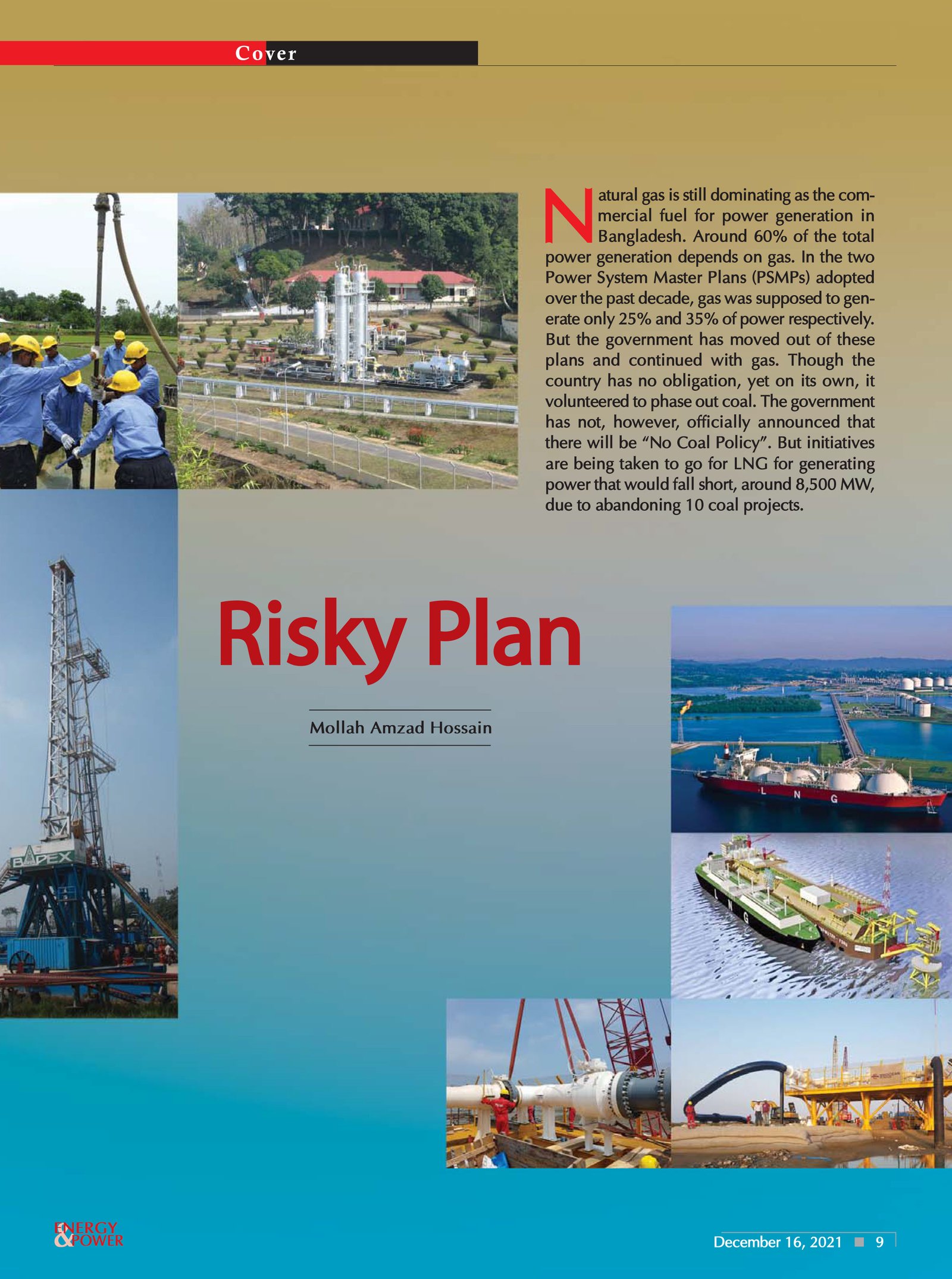 3rd January 2022
Mollah Amzad Hossain
Natural gas is still dominating as the commercial fuel for power generation in Bangladesh. Around 60% of the total power generation depends on gas. In the two Power System Master Plans (PSMPs) adopted over the past decade, gas was supposed to generate only 25% and 35% of power respectively. But the government has moved out of these plans and continued with gas. Though the country has no obligation, yet on its own, it volunteered to phase out coal. The government has not, however, officially announced that there will be "No Coal Policy". But initiatives are being taken to go for LNG for generating power that would fall short, around 8,500 MW, due to abandoning 10 coal projects. This may force relying on gas till 2050 or even beyond, and make Bangladesh exclusively dependent on gas. The main challenge of such a situation would be that a major portion of the gas requirement will have to meet through imports from the volatile energy market. Bangladesh has now started formulating an "Integrated Energy and Power Master Plan" with the assistance of Japan. On the other hand, some projects for setting up infrastructure for increasing LNG supply by 2031 through import are being implemented. Endeavors for exploration of new gas resources and increasing production from existing gas fields through application of modern technology is also progressing.
Talking to EP, officials at the Energy Division, Petrobangla and relevant companies have claimed that fears are no more persisting about the gas reserves depletion completely by 2031 even if no new gas field is discovered. They argued that the projects already taken up by BAPEX, BGFCL and SGFL would boost production by 900 MMCFD within 2031. The IOCs would contribute another 600 MMCFD. That would make it possible to retain 2600-2800 MMCFD production from the country's own resources. In 2031, the gas demand is projected to be 4200 MMCFD. In such a situation, imported LNG contribution would be kept at 1200-1400 MMCFD. The Energy and Mineral Resources Division (EMRD) was, however, continuing its efforts to set up infrastructure for importing upto 4200-4500 MMCFD of LNG. Most of these projects are still at preliminary stages though.
Present Status and Future Perspectives of LNG
Bangladesh stepped into the LNG world in 2018 through starting the operation of Floating Storage & Regasification Unit (FSRU) of US company Excelerate Energy at Maheshkhali Coastal area. Within two years, another FSRU of local Summit Group started operation. The annual capacity of each of the FSRUs is 3.75 million tonnes. In other words, the two FSRUs together can deliver a maximum of 1000 MMCFD. On an average, they have so far delivered 650 MMCFD. For an issue with the subsea pipeline, the operation of Summit-owned FSRU is temporarily out of operation. The operation is expected to resume by the middle of this month (January 2022). Petrobangla is now under stress due to confronting the gas supply deficit. Till 2019 there were negotiations and studies for three more FSRUs, but at a certain stage a decision was taken for no more FSRU as the authorities considered it unreliable in the context of Bangladesh.
FSRU Revisited
The EMRD, after taking a decision for another FSRU, has advised Petrobangla for negotiating and concluding contracts with Summit Group. Relevant sources confirmed signing this agreement in 2-3 months under a special act for power and energy supply. The FSRU would come into operation within 18 months of signing the agreement. The energy division expects that it would come into operation within the middle of 2023. Within this period, Excelerate Energy may also increase its capacity from 500 MMCFD to 630 MMCFD through implementing Dry Docking. As such, in Moheshkhali, the regasification capacity of LNG would increase to 1630 MMCFD by 2023. The Energy Division and GTCL have assured that two pipelines together can evacuate the RLNG without any issue. But this may require some work in some areas of the gas grid. Plans have been made for completing these within the time frame.
LNG Supply in the Western Region
Despite constructing a gas transmission pipeline with huge investment, there are no other places in the southern region, other than Bhola, where gas supply has started even. In Khulna, the dual-fuel power plants are using furnace oil only. NWPGCL is working to complete the work of 800MW power plant. It has finalized plans for setting up of a 3,600MW gas-based power plant at Payra under joint venture. Initially it planned to import LNG for its Khulna and Payra plants. But now they abandoned that idea. They now want Petrobangla to supply them RLNG from its gas grid. Energy division is now considering four proposals for gas supply in the southern region.
Two of these proposals are importing RLNG by pipelines from India. The first one was Indian Oil Company and Petrobangla under G2G initiatives importing gas through pipelines at Jessore or Satkhira. The two years old discussion did not achieve much headway. However, talks have again resumed for finalizing the Gas Sales Agreement (GSA).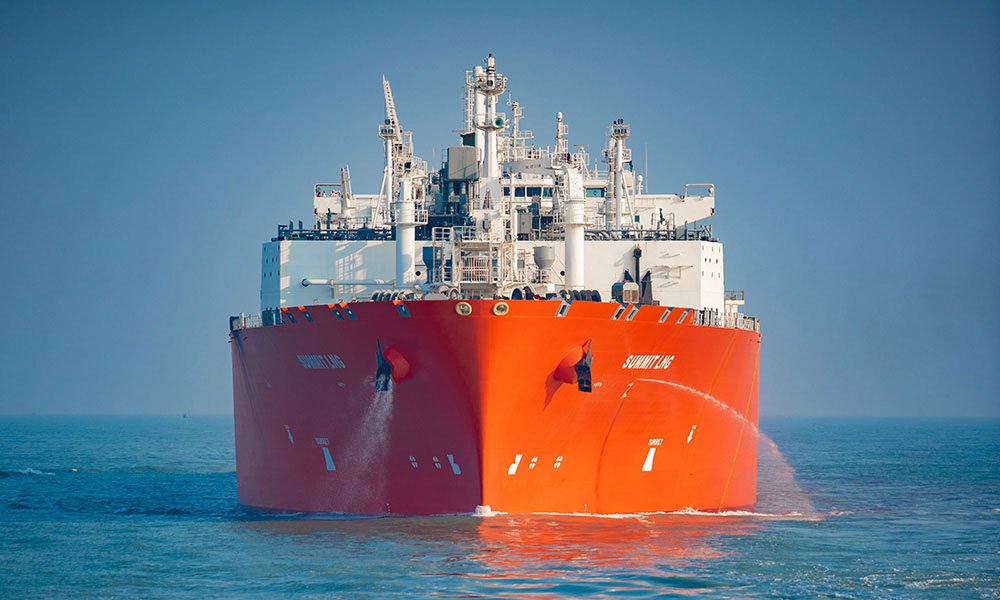 The Energy Division on principle accepted a proposal of Indian Private Sector Company H Energy. RPGCL has been tasked with discussing and concluding agreements. A source of RPGCL informed the EP that two companies want to deliver 300 MMCFD each. But talks are at a very early stage. A source in the RPGCL said that after 3 months it would be clear whether these two proposals would at all see the lights to the end of the tunnel.
Saudi Arabian Company Engineering Dimension International Investment LLC has submitted a proposal for supplying 500-1000 MCFD gas through pipeline importing LNG into India. EP came to know that this proposal is now at the Ministry of Foreign Affairs of Bangladesh.
LNG Import via Payra
Chinese company CMC, German Technology Giant Siemens and British IOC BP expressed interest in partnering with NWPGCL in its 3,600 MW gas-based power plant at Payra. BP on behalf of the JV started carrying out a feasibility study for LNG supply at Payra. But at one stage, BP left and US company Excelerate Energy stepped in. They started working through bringing some changes in the original plan. Their plan includes supplying LNG through subsea pipelines and setting up an LNG terminal at deep sea. Side by side they proposed supplying RLNG through a pipeline to Khulna. This proposal stated 500 MMCFD RLNG supply. Sources said the price of RLNG proposed is less than what Bangladesh is getting from FSRUs at Maheshkhali. Later a similar proposal was submitted by Summit Group. A committee at EMRD is now examining the two proposals. The report of the committee may be given in a month or two.
Land Based Terminal (LBT) at Matarbari
In addition to FSRU, the government has decided to set up a land-based terminal at Matarbari. Tokyo gas has been engaged as a consultant for preparing a tender document for it. In the meantime, 12 companies responded to the Expression of Interest for EPCM type contract. Of them, 7 companies have been shortlisted for sending the tender document. The RPGCL source informed the EP that the tender document is now ready. The proposal would be requested for submission in March 2022. Later after receipt of proposals, evaluation, approval, negotiation with the evaluated bidder it may be possible concluding agreement by 2023 for the LNG Terminal at Matarbari. It may be possible to bring the 1000 MMCFD import capacity terminal into operation by June 2026. It is being said that within a year of operation the capacity may be increased by another 500 MMCFD.
LNG Import
EMRD envisions increasing LNG regasification capacity from 1000 MMCFD to 4200-5000 MMCFD in phases from 2023 to 2031. Sensing the volatility of global market price of LNG, it has been decided to limit reliance on imported LNG. The essence of present thought is limiting LNG import to 1,000-1,200 MMCFD. For this, EMRD has worked out plans for increasing supply of gas from its own source (up to 2023 short term plan, 2026 mid-term plan and 2031 long-term plan). Some proposals for purchasing LNG under long-term purchase are also under consideration sensing challenges of purchases from the spot market. Qatar and Oman have decided to reduce the sale of LNG under long-term contracts from 2022. This has created additional stress for EMRD.
EMRD Plans Increasing Supply from Own Sources
The present gas supply capacity from Petrobangla companies and IOC's operated fields is 2,730 MMCFD. From the depleting trend, it is being assumed that at the present rate of use from 2022 the production gradually would deplete completely by 2031 if no new discovery and development of gas field(s) is made by this time. Of course, it is being told not to get frustrated accepting these assumptions. A highly placed official of EMRD told the EP that if it proceeded along the right track, production would be maintained at the present level until 2031. By this time about 8 TCF new gas would be available from field growth and new discovery. Around 900 MMCFD new supplies would come from BAPEX, BGFCL and SGFL operated fields and 600 MMCFD from IOCs operated fields. This 1,500 MMCFD new gas supply would keep supply from local sources at present level. To meet 4,200 MMCFD demand in 2031, RLNG supply would be kept restricted to 1,200 MMCFD.
National Gas Company BAPEX
EMRD source informed the EP that national gas company BAPEX along with BGFCL and SGFL would carry out exploration works on a standalone basis, joint venture and also through engaging drilling contractors in onshore areas till 2031. During this period, a total of 24 exploration wells, 35 development wells and 33 work overs would be accomplished. 7-8 TCF new gas discovery is expected. BAPEX during this period would carry out exploration at Soriatpur, Togbi, Sreekail North, Sreekail North 1A, Elsha, Sylhet 10, Sreekail deep, Mobarakpur Deep, Titas Deep, Bakhrabad Deep, Dupitila, Batchia, Haragach, Rashidpur Deep, Kachalong, Sitapahar, Soilakupa, Savar–Singair, Sunetra 2, Titas 33, Titas 36, Rashidpur 13 and Rashidpur 14 structures. One BAPEX official expressed optimism that if present support of EMRD continues, it may be possible to achieve the target. But Prof Dr. Ijaz Hossain, former professor of BUET considered this as highly ambitious and unlikely to be achieved.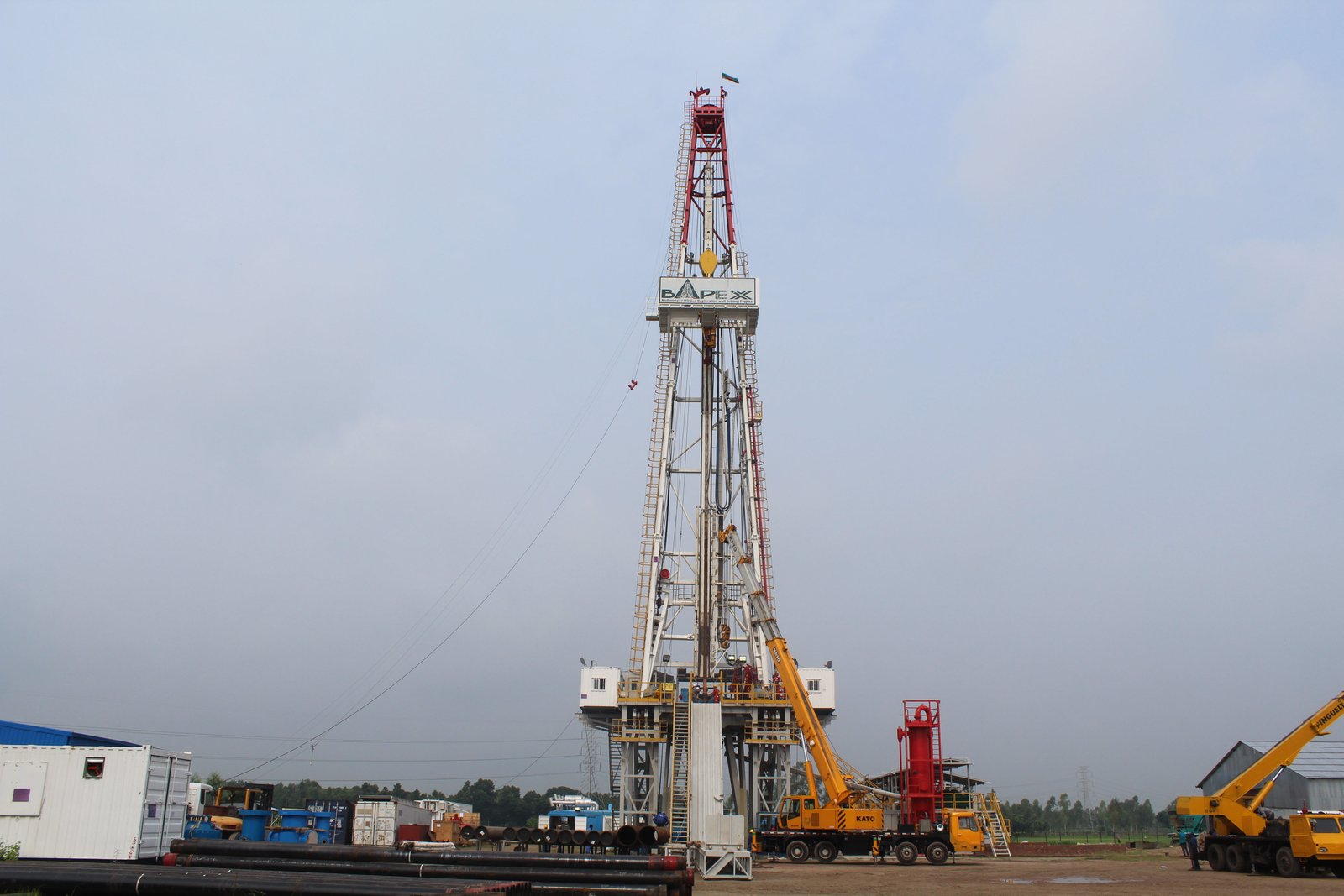 IOC Initiative
Chevron is the main IOC operating gas fields in Bangladesh onshore now. Around 50% of the total gas production is coming from its three under operation gas fields. Bibiyana is the largest gas field. Initiative has been taken for drilling a gas well in the flank with a view to maintaining the production of the field at the present level. More wells would be drilled subject to success from the first well. Petrobangla approval has been sought for installation of Inlet Compressor at Jalalabad Gas Field. Besides these, Chevron has proposed for fresh exploration at Blocks 12, 13 and 14. One source claimed that delay by the EMRD to respond to it is impeding the progress of work on this initiative.
Offshore Exploration
Bangladesh could not start exploration in a long time after the resolution of maritime boundary disputes with India and Myanmar in the Bay of Bengal. The initiative for launching a fresh bidding round in deep water in 2019 was frustrated by the COVID outbreak. Santos and Daewoo have wrapped up their operations in Bangladesh. Indian company ONGC is now working in two offshore blocks. They are drilling a well at Kanchon. After drilling down to 3,200 meters there was no gas found at two expected layers. Gas at further depth is expected. ONGC has plans for drilling two more wells. These may start in June 2022. It is to be noted that commencement of drilling was delayed for a year for resolving tax complexities of NBR. Petrobangla sources claimed that drilling like work would suffer if such attitude is not changed. IOCs would be discouraged.
Multi-Client Surveys
At long last, a contract could be concluded with Tgs and Schlumberger JV for carrying out multi-client surveys before the outbreak of COVID pandemic. But work has not started yet. Before the start, they tried to check with intending bidders for data sales. But getting little or no response, they did not start the work. Petrobangla sources informed that it organized meetings with 19 IOCs in 2019. They proposed to bring some amendments in the updated model PSC. But EMRD negated that proposal stating about the approval of updated PSC in the not too distant past. Recently RFP has been invited to engage a consultant for amending the PSC. It is expected that by mid-2022 a consultant can be engaged and PSC can be amended. Based on that, a fresh bidding round may be launched by end 2022.
IOCs are turning around from pandemic impacts. Experts have genuine apprehensions about positive responses from them now. When asked, Petrobangla officials said the possibility of getting a positive response is remote now. But we must not keep our fingers crossed. For creating any momentum or dynamism in exploration activities, we must get out of bureaucratic tangles. Otherwise no IOC would make risky investment in Bangladesh offshore.
Conclusion
The developed world has emphasized on natural gas as a transition fuel for getting out of coal. Consequently, the demand for gas and LNG has shot up significantly. The COP26 could not reach a consensus on phasing out of coal. China and India have announced to reach net zero targets by 2060 and 2070 respectively. But no clear plans have been announced on how they would do that. Recent media reports indicated that China and India have increased their own coal production. Contrary to that Bangladesh has shelved 10 coal power projects. For political decisions, coal exploitation remains in suspended animation. It is uncertain whether the techno-economic analysis on own coal would be done or not at all. Consequently, natural gas is the only primary fuel option for Bangladesh. Experts are not at all optimistic about the 10-year gas exploration plan. Over the past 20 years, 14 TCF gas from the discovered proven reserves has been used. The addition of gas over this period is only about 3.0 TCF. Hence there is an apprehension over the possibility of discovering new gas. BAPEX and IOC sources informed that without positive support of EMRD, necessary momentum in exploration activities cannot be created in this regard. Again, there appears no proven record of Petrobangla's intention about exploring and exploiting its own resources. The highly ambitious initiative of drilling 108 wells by BAPEX in 5 years died its natural death. Petrobangla and EMRD became laughing stocks. The experts, however, expressed the optimism that this time the BAPEX, BGFCL, SGFL and, at the same time, Chevron initiatives would yield positive results - new gas resources would be discovered and production would increase.
Can Bangladesh keep its exportable commodities competitive in the world market after absorbing the price shock of imported LNG in the event of the EMRD and Petrobangla's failure in exploring and discovering new gas resources? There is no doubt that many new challenges would emerge in Bangladesh being a developing economy if sustainable energy security cannot be ensured at an affordable price.
---