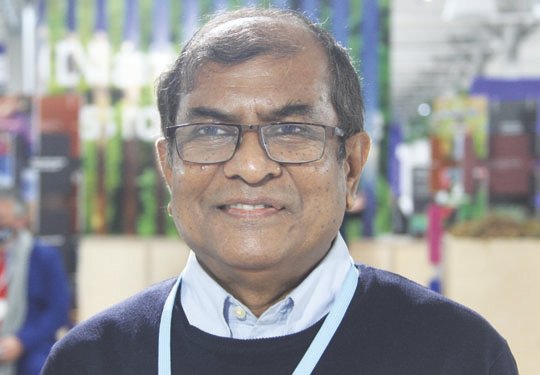 24th November 2021
Nurul Quadir
Thanks to the relentless efforts made by the United Kingdom, the host country of the COP26, that the Glasgow Climate Pact could be adopted. It was a major milestone achieved over the past six years. Deadlocks of negotiations could be over and the Rule Book could be finalized. There are no more impediments to start implementation of the Paris Agreement. However, there is a delicate balance between the interest and aspiration in the deal.
Climate expert Nurul Quadir, a former Additional Secretary of Bangladesh government and now a faculty member of North South University, made the observation in an exclusive interview with Energy & Power Editor Mollah Amzad Hossain.
How would you evaluate the achievements of the Glasgow Climate Summit?
The Climate Pact declared at Glasgow has successfully resolved the deadlock of negotiations prolonged for over the past 6 years. The Act has signaled the official commencement of the implementation of the Paris Agreement. But we cannot say as yet that all issues have been resolved. But it is undoubtedly a giant positive step for the future. Agreement has been reached for global stocktaking every 5 years. It was possible to agree to a common format for registering the report. That would facilitate flow of similar climate related information for all countries. Every country talked loudly about achieving global warming restrictions below 1.5 degree C. This would help confront the challenges of achieving the target.
Global Geopolitics is about climate issues. The negotiations have been going on for 20 years. How do you look at it?
Any international summit experiences divergent views and opinions. In the days of multilateralism, every group tried achieving the goals from their own perspectives. This is more vibrant in climate negotiations. Final decisions cannot be taken without meeting the minds of all parties. Similarly a single country or a particular group of countries cannot take decisions. All stakeholders have to negotiate for arriving at a consensus.
This was the 26th event of the UN Climate Summit or Conference of Parties (COP). The Paris Agreement was the culmination of the Kyoto Protocol. In 2015 two milestone achievements were made. These were the SDG and Disaster Management Protocol. At the initial stage, there was a general perception that climate concerns did not have scientific basis. But experts observed that it does not matter. If we feel that this might happen, we must take required precautions. Based on such feelings, we discussed it during the first conference and the IPCC was created. Energy policy and energy politics were there. The countries, which relied on imported fuel, were keen to resolve the climate issues at that stage. But those blessed with their own fuel were reluctant.
We participated in the COP26 in accordance with IPCC guidelines. At a stage of the conference, big countries divided into groups and formed blocks - the USA was in one and the EU in another. The convention is actually a frame of convention and not the entire convention. But the frame of convention was concluded as indicators, policy guidelines and objectives are all included in that.
COP is a forum where decisions need to be taken on consensus of all and not on majority decision. It is being said that Article 6 could be narrowed down. What does it actually mean?
At Katowice in Poland, we made a breakthrough. The article 6 remained outstanding. World leaders left nothing unturned to create consensus this time. There is politics here. The Paris Agreement could be concluded as France and its allies were desperate for it. The CVF also tried their best. In COP26, host UK and allies tried to achieve success. That is why some achievements could be made. But the Rule Book finalization and commencement of works on its basis may not be made.
Only 2 days are left before the conclusion of COP26. What would happen to the carbon mechanism?
I have reasonable doubt about achieving carbon mechanism 6.2. But 6.8 non-market mechanism is important for us, where there can be some progress. Carbon Market Mechanism per CDM formulated in accordance with the Kyoto Protocol was supposed to end by 2020 in accordance with the Paris Agreement. But it could be done. Because the CDM rule has no mention about when it would end and how it would end. The LDC group does not want it to end. But Africans want the end of it. It is also unclear who would get the points – whether it is the donor country which provides money to a country for reducing emission or the host country? Now both parties are claiming this. That is where the double counting came. Some countries also brought the issues of emission reduction under previous CDM.
The USA participated full-fledged in COP26 for the first time after Paris. I told earlier that the UK and its allies want to achieve something at COP26. The USA also wants to see what has happened. John Kerry, special climate envoy of the US president, appeared vocal right from the onset. The USA and China have issued a joint statement. But there have been no talks about loss and damage.
Loss and damage mechanism was introduced from Warsaw. Santiago network followed it up. A temporary secretariat was supposed to be set up from COP26. Scotland has declared to contribute US$1 million for it. What do you expect?
Some achievements would be made of what LDCs and other groups are demanding. First was deciding on a framework. Fortunately we could do that. The next is governance for it. There is a debate about CMA or COP doing it. Decision needs to be taken whether CMA or COP alone would do it. LDCs want both CMA and COP to govern. But the USA and its allies want only the CMA to govern. Third is the financing. Scotland committing US$1 million is a positive indicator. Loss and damage financing has been discussed at Glasgow. Meeting of minds between G77 plus China is also a positive development.
The Heads of government of 123 countries joined the COP26. Is there anything new?
There were possibilities that Indian Prime Minister Narendra Modi and US President Joe Biden would not come. But they both came. China was thought not to join, but they did. These were positive outcomes. There is a feeling now that something would happen. But it is not that COP26 would achieve everything. But negotiations in the leaders summit has created new dynamism.
Bangladesh has submitted an enhanced NDC. US$176 billion would be required to implement this by 2030. Can it be achieved? Can Bangladesh attract global assistance for it?
Bangladesh has no obligation for NDC. None was bothering as we were among the LDCs. There is nothing about submitting financial statement. Still Bangladesh submitted an enhanced NDC. It was also submitted earlier. Much greater was achieved than what was committed in earlier submitted NDC. But the target of financial assistance could not be achieved. It would be great if Bangladesh can achieve it now.
The first IPCC report stated that 45% carbon emission reduction by 2030 would be required for meeting the target of 1.5C global warming limit. But even if the present NDCs are implemented, carbon emission would increase by 17%. Do you find any pathway of getting out of the situation in the current COP negotiations?
One of the major issues of discussion in the ongoing COP was finding a pathway for restricting global warming below 1.5 degree C and reducing emission. But till now consensus for a pathway could not be reached. This means the NDCs submitted by countries would not be enough. Fresh enhanced NDCs would be required. G20 countries have to take the leading role. Global warming cannot be restricted below 1.5C unless China takes greater initiative for this. But there is tremendous pressure for it. Pressure groups are working right across the globe.
US$100 billion was supposed to be contributed to the Green Climate Fund (GCF) every year from 2020. Oxfam said it has contributed about $20-22 billions. OECD report states of US$ 80 billions. What is the progress?
Developed countries have failed in contributing US$ 100 billion so far. It would not happen in 2021 as well. US$ 500 billions would be required over the next 5 years. It would be essential for filling up the gap. The countries wanted time till 2023. But contributing US$100 billions each year is a consensus decision. There is no scope for moving out from it now.
Finally, what actually has the world achieved from COP26?
Five Countries together contributed US$ 300-350 millions in the adaptation board. It is a significant achievement for adaptation. But we have to wait until the conclusion of the COP26 to assess other achievements.
---