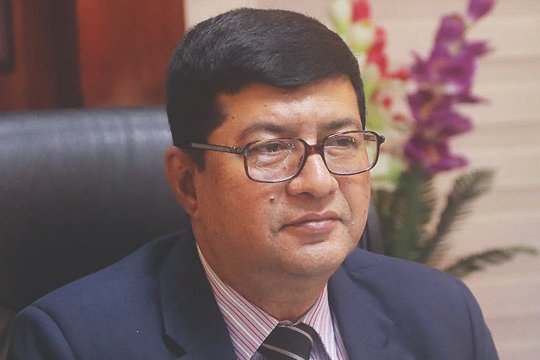 5th April 2021
Md Abu Bakr Siddique
Present increasing trends of using electric induction stoves might reduce cooking cost significantly in near future. Around 20 percent of the population is using LPG for cooking purpose and they have to pay high price. In our country, yearly demand of LPG around 100,000 tonnes of which 15 to 20 percent is being supplied locally and 80 percent is import based. If electricity price becomes cheaper, induction cooker would be better option with the support of pressure cooker for the users, in terms of cost, more comfortable to carry and installation, less cooking time etc compared to LPG cylinder. Considering all these, it might reduce growth rate of LPG demand in future. Bangladesh Petroleum Corporation (BPC) has taken an initiative to set up a LPG terminal. When it will be brought into commercial operation, it would contribute significantly to reduce the LPG price in the local market.
Md Abu Bakr Siddique, Chairman of BPC, made the observation in an exclusive interview with Energy & Power Editor Mollah Amzad Hossain.
BPC has completed its 40th year of operation. How do you evaluate its achievements over the years?
The outstanding success and achievement of BPC is creation of transportation infrastructure nationwide for liquid fuel and other petroleum products. Just for these, the supply of fuel oil was not disrupted even for a single day despite of natural calamities, social and political commotions. Even the global calamity like Coronavirus could not disrupt the supply. Uninterrupted supply of fuel is an obligation of BPC. BPC has been successful in performing its obligation as a competent organization.
The demand for oil is growing with time. At the same time, the supply challenges are also emerging. What kind of initiatives BPC is taking for modernizing its supply infrastructure?
Development is a continuous process. Our motivation, planning and execution of plans are ongoing processes. In 2009, the storage capacity of BPC was enough for meeting 20-22 days demand. Now it has more than doubled. The actions for further expanding the storage capacity by installing tanks at different depots are continuing.
The work on construction of liquid pipeline from Chattogram to Dhaka is in progress for transporting oil efficiently and eliminating losses during transportation. The work of a pipeline for transporting refined product from Numaligargh Refinery of India to BPC depot at Parbatripur has made a lot of progress by now. Work is also going on for the pipeline for transporting Jet Oil from Kanchon to Aviation depot of Hazrat Shahjalal International Airport, Dhaka. Jet fuel would be pumped directly from Kanchon to the airport. In future, similar facilities would be created for Jessore, Sylhet, Cox's Bazar and Syedpur airports in phases.
Work on Single Point Mooring (SPM) is advancing. Subsea pipeline from Kutubdia will come to Moheshkhali and storage facilities are being constructed there. Crude oil from there would be pumped through pipeline to the Eastern Refinery Limited (ERL) in Chattogram. It will make significant savings. These all would diversify sources of supply of liquid fuel. Actions are underway for riverine transportation of oil to Sylhet region. When completed, it will ease the pressure on railway transportation system of oil which is now very weak.
In Bangladesh only Octane is now stored underground. Many countries of the world store all petroleum products underground. We are reviewing possibilities of doing that in future. We have planned to modernize all jetties. When the plans will be successfully executed, oil distribution time would be reduced.
Padma, Meghna and Jamuna are working on distribution of liquid fuel, lube oil and LPG. How would you compare the efficiency of marketing of these companies with global standard? What are your perspective plans for modernizing the marketing operations of these companies?
Some works on modernization of petroleum products marketing have been launched. Custody Flow Meter installation for Eastern Refinery is under process and automation of fuel measuring in all main installations and depots also under process. Work on using modern analyzer and meters for oil quality measurement has also started. For control over the movements of oil tankers and lorries actions are underway for bringing these under GPRS networks. System loss has been reduced significantly by now and actions are under way for further reduction.
In 10 years, domestic market for LPG has grown from 80 thousand tonnes to 12 lakh tonnes. But the share of public sector has not grown actually. Private sector exclusively contributed to this growth. What are your plans for increasing contribution of public sector to the growth of LPG market?
Please note that BPC has no scope for increasing LPG production at present because it depends on raw material produced in ERL and Sylhet Gas Field. We had first set up the LPG plant based on by products of our refinery. Now propane and butane recovered from NGL has been added to this. Hence there is no scope for increasing the capacity now. The LPG bottling capacity expansion can be considered when BPC starts importing Bulk LPG after setting up proposed LPG Terminal at Materbari.
BPC has taken an initiative to set up LPG terminal under joint venture for importing bulk LPG. A foreign company has been taken as a partner. But local private companies have the capacity to invest. Why do not you consider local companies as JV partners? What would be the probable investment for this?
BPC will not construct LPG terminal in joint venture with any company. BPC will not invest any money for this. This would be constructed by vendors' on Built, Own, Operate and Transfer (BOOT) basis. BPC will import LPG from international market using this terminal through very large oil carriers (VLOC) like present petroleum import system. The investor company will construct LPG terminal on BPC's land and will operate it for a duration agreed by BPC. It will take user fee or terminal charge from BPC for importing LPG, just like terminal charge which is now paid to Chattogram Port. After the agreed period, they will hand over the ownership of the terminal to BPC. it has not been decided how long the investing company would operate. We have received a proposal from Japanese company Marubeni. For negotiating with them on behalf of the government of Bangladesh, BPC is in process to sign a non-binding Memorandum of Understanding (MOU). For further advancement of activities, a joint working group comprising with both sides' representatives and experts, will be constituted. The first action of the Joint Working Group will be conducting a feasibility study.
We got five unsolicited proposals. Most of the proposals were all most similar in terms of joint venture meaning both sides investment, sharing, management, debt and equity, etc. From the proposals, it is likely around $400 million will require in this project.
Why Marubeni? We find that only Marubeni Consortium has proposed for joint venture, at the same time, for BOOT, a model under PPP. Others have given proposal only for joint venture where equity from BPC is a must. Another complexity is that, intended company must take loan and as JV partner, BPC have to come in the purview of loan liability. We also examined source of fund proposed by the companies. All companies proposed loan from international banks, or Financial institutions. But Marubeni proposed loan from JICA or JBIC which indicates its level of business relation with Japan Government. That is why we have started discussion with them for signing MOU. We will consider alternatives if negotiation with them become failed.
Terminal charge will be decided through discussion. BPC would sell LPG to private companies after importing. Two Refrigerated big storage tanks would also be constructed at the terminal. The construction of terminal would start immediately after completion of deep-sea port at Matabari in 2025.
The transportation cost of LPG to Chattogram or Mongla port is US$ 90 per tonne for shallow draft. How much the cost would reduce when BPC terminal is built at Maheshkhali? Will the private operators buy LPG from there?
It is very early to assume as proposed terminal will start 5 to 6 years later from now. At that time, present demand and supply scenario may be changed.
ERL is a 5-decade old company. Its capacity is 15 lakh tonnes. It cannot meet the demand of the country now. At this stage, what is your plan for a new refinery?
We are on the process for setting up ERL 2nd unit. We hope to start the project from July 2021 for next 5 year. This year we will invite bid for EPC Contractor. The capacity of ERL 2nd unit would be 30 lakh tonnes. We are expecting to start construction in 2022 after selection of the contractor.
Construction of SPM is in progress for speedy and efficient delivery of crude oil. When it will start operation?
We are optimistic about its completion in 2022. Some delays have happened for COVID 19 and also changing deep trenching design. The sub-sea pipeline was supposed to be buried at 3-meter depth in the original design, but that has been changed to 9-meter now taking into account the various excavation activities in the vicinity. The work on the pipeline from Maheskhali to Chattogram is in progress. Crude oil and diesel would be imported using this. When it becomes operational, it would save transportation cost up to US$ 5 per Barrel.
There are demands for providing permissions to private companies alongside public ones for importing petroleum products and marketing. What are your views? Should the price of petroleum products be left to market or it should remain as it is now?
Like water and others, fuel is also a public good. Our citizens have right to get these goods from government, In other words, it is responsibility of the government to provide these goods to the citizens. As you know, price of oil depends on global market and it changes every hour and day. The government has been continuously purchasing it according to demand of the country, and does supply all over the country at a stable price, irrespective of import price and without considering profit or loss. It is not possible for private sector to follow this mentality. I find no opportunity for leaving it to private sector as private sectors shall never do business incurring loss.
How pleased are you with the state of management and skills development? Do you have any plan for taking up any project for skill development and restructuring?
Bangladesh Petroleum Corporation is an old organization. It is necessary to increase skills and develop efficient manpower to meet demand of coming days. For this, we have planned to take a project for strengthening capacity of the BPC Officials. We are also expanding our organogram with some new set up such as R&D wing. We also have given instruction to all our subsidiaries to restructure their manpower as per demand.
---