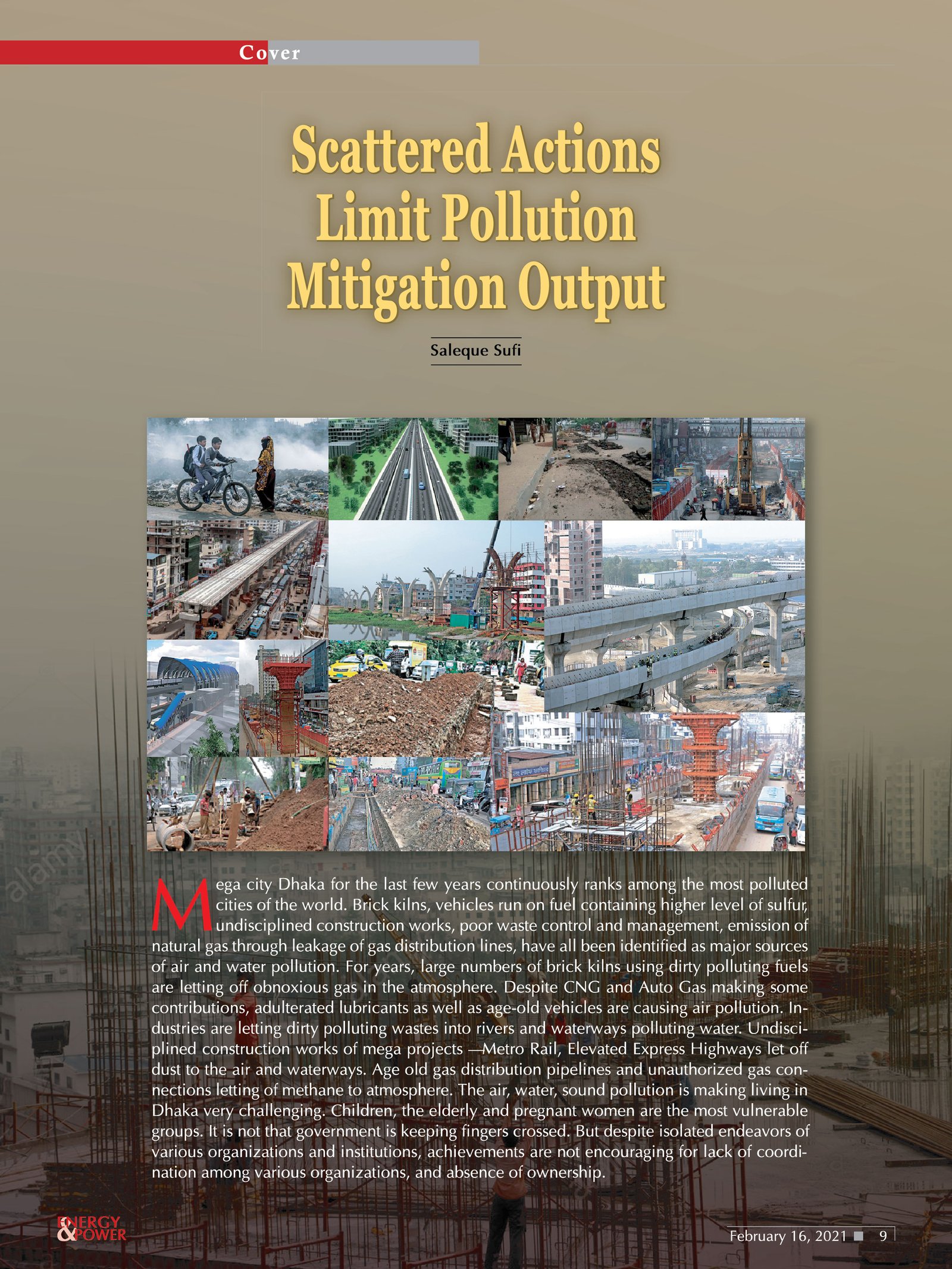 17th February 2021
Saleque Sufi
Mega city Dhaka for the last few years continuously ranks among the most polluted cities of the world. Brick kilns, vehicles run on fuel containing higher level of sulfur, undisciplined construction works, poor waste control and management, emission of natural gas through leakage of gas distribution lines, have all been identified as major sources of air and water pollution. For years, large numbers of brick kilns using dirty polluting fuels are letting off obnoxious gas in the atmosphere. Despite CNG and Auto Gas making some contributions, adulterated lubricants as well as age-old vehicles are causing air pollution. Industries are letting dirty polluting wastes into rivers and waterways polluting water. Undisciplined construction works of mega projects – Metro Rail, Elevated Express Highways let off dust to the air and waterways. Age old gas distribution pipelines and unauthorized gas connections letting of methane to atmosphere. The air, water, sound pollution is making living in Dhaka very challenging. Children, the elderly and pregnant women are the most vulnerable groups. It is not that government is keeping fingers crossed. But despite isolated endeavors of various organizations and institutions, achievements are not encouraging for lack of coordination among various organizations, and absence of ownership.
Most Polluted City
A report of the Clean Air and Sustainable Environment (CASE) project of the Department of Environment (DoE) evidenced that the Air Quality Index (AQI) of Dhaka stood at 387 on January 2018. The index makes the air quality of Dhaka as extremely unhealthy as the city consistently ranks between 301-500 ranges. According to responsible DoE sources, about 1,000 polluting brick kilns around Dhaka city are the major source of air pollution in the winter. Brick kilns in 1980s and 1990s used less polluting natural gas, but now they are using highly polluting, high sulfur and high ash coal and other polluting fuels. Consequently, SOX, NOX emissions and particulate matters are causing huge health hazards. DoE is trying to regulate brick kilns emissions. Bangladesh could do well by introducing blocks and automatic brick kilns to get rid of the menace. The country needs development but at the same time such development must not impair future generation of health.
Dhaka Clean Fuel Project Failed Achieving Objective
Air pollution became a major issue in 1990s. Government had to adopt Dhaka Clean Fuel Project with the assistance of ADB. Three Petrobangla Companies GTCL, TGTDCL and RPGCL were entrusted for implementing three components of the project. The objectives were supplying CNG to all Public sector Vehicles, introducing 300 NGVs and converting carefully other traditional fuel using vehicles. Unfortunately, the objectives of Dhaka Clean Fuel Project failed. Mushroom growth of CNG fuelling stations, letting smaller vehicles use CNG defeated the original purpose. Dhaka city streets suffered unbearable gridlocks and vehicles using adulterated lubricants became major source of air pollutions. 300 articulated NGV busses could address traffic congestions. The introduction of CNG using three wheelers, small public sector vehicles, human haulers were not in the vision and objective of Dhaka Clean Fuel Project. BNP–Jamaat led alliance government must be blamed for this. Thousands of polluting small vehicles in Dhaka creating grid locks on Dhaka streets is not only causing loss of work hours but also adding to air pollution. If instead 300-1000 CNG using NGVs could be introduced as public transport, these could replace most of the smaller slow-moving vehicles. Dhaka should not allow old polluting vehicles causing air pollution to ply on city roads. We have noticed how air quality improved during COVID lock down for the least movement of Vehicles.
Introducing auto gas is a great option. CNG initiatives should not have been extended without control. Remember it was Dhaka Clean Fuel Project but it expanded nationwide and it has now become almost impossible to regulate.
Dilapidated Gas Distribution System Causing Methane Emissions
Another source of air pollution is happening silently. Gas distribution network in Dhaka has become dilapidated. The pipelines are leaking through thousands of pit holes. Many authorized connections are also letting off methane. TGTDCL is not using odorant in many cases to identify leakages. Methane is a GHG emission. Titas system is silently causing this.
Poor Waste Management Causing Air and Water Pollution
Waste collection and waste management is another source of air and water pollution. All modern cities have excellent waste collection, waste disposal and management system. We know it is extremely difficult bringing waste collection system under control. But it must start. It is heartening to note that Dhaka City Council North and South have launched action program. Wastes segregated, collected in controlled manner, recycled and power generated can have manifold benefits as done in developed world.
Industrial wastes and Medical wastes are major sources of air water pollution. Industries must have ETPs and Medicinal wastes must be disposed properly.
Undisciplined Construction Letting Off Dust in The Air
Mushroom growth of Dhaka mega city following no norms and standards is another reason of pollution and emissions. The natural airflow has been restricted due to construction of many high-rise buildings. Many term Dhaka city as lumps of concrete. Builders hardly adhere to building codes. RAJUK doesn't regulate construction properly. During construction the materials were left uncared along the street. Add to that construction and replacement of buried utility lines in uncoordinated manners and construction of Mega Projects like Metro Rail, Flyovers, Elevated Express highways. Dust emissions polluted air and water. Poor drainage facilities create messy situation around construction sites during monsoon.
Dhaka Desperately Needs Urban to Rural Reverse Migration
Dhaka megacity population is now 21,741,000 in 2021 at an annual growth rate of 3.50%. Managing all utility services for this huge population in a space constrained Dhaka city has almost become impossible. Dhaka desperately needs Urban Rural reverse migration. It is not only pollution and emission control and management, but also for achieving security of supply of energy, power and water reverse migration of at least 25-30% population from Dhaka to rural area has become essential. Relocation of RMG and other industries from the heart of city center would help. Bangladesh PM's vision "Gram Hobey Shahor", if implemented, would make major contributions. If slum dwellers find works in rural areas turning in to development hub, they would quit Dhaka. That would make major contribution.
Dhaka Needs Metropolitan Governance
Air pollution control cannot happen in isolation. There must be consolidated and compressive all out action program for air, water, sound pollution control, traffic grid lock management, waste management. There must be much better coordination and cohesion among all stakeholders – DoE, Rajuk, Utility services, City Council, LGRD, Ministry of Works, Academic Institutions, Law Enforcing agencies. City Corporation Mayors must lead and everything must center around mayors' offices. It is a great sign that City Corporation has been entrusted with the responsibility of freeing Dhaka Rivers from unauthorized occupation and recovering khals and canals. If necessary, initially, a powerful cell from PMO must steer the operations.
The mission developing economy cannot be achieved unless Bangladesh can make capital Dhaka City livable managing all pollutions and emissions. It is possible and achievable.
Recommendations (Box)
· Introduce Metropolitan Governance system. Examples are there in developed and developing countries
· Carry out extensive propaganda about Environment Pollution management in Print, Electronic and Social Media.
· Including Environment Education in Primary and Secondary Level.
· Introduce modern waste collection, disposal and waste management system
· Stopping operation of all brick fields giving three years time and introduce blocks and automated bricks instead.
· Phasing out pipeline gas supply in Dhaka city replacing this with LPG supply by 2024
· Importing 500 NGVs for public transport on Dhaka roads.
· Remove all old, emitting vehicles from city roads.
· Restricting Movement of Automobiles in city inner circle during 10 AM-4 PM
· Relocating RMGs and other Industries from city center and Residential Areas.
· Setting up ETPs at every Industry creating refuse.
· Restricting works of Mega Projects in City Areas after Evening as much as practicable.
Zeroing Pollution and Emissions may not happen but why can't we give the best try for the sake of better living?
---