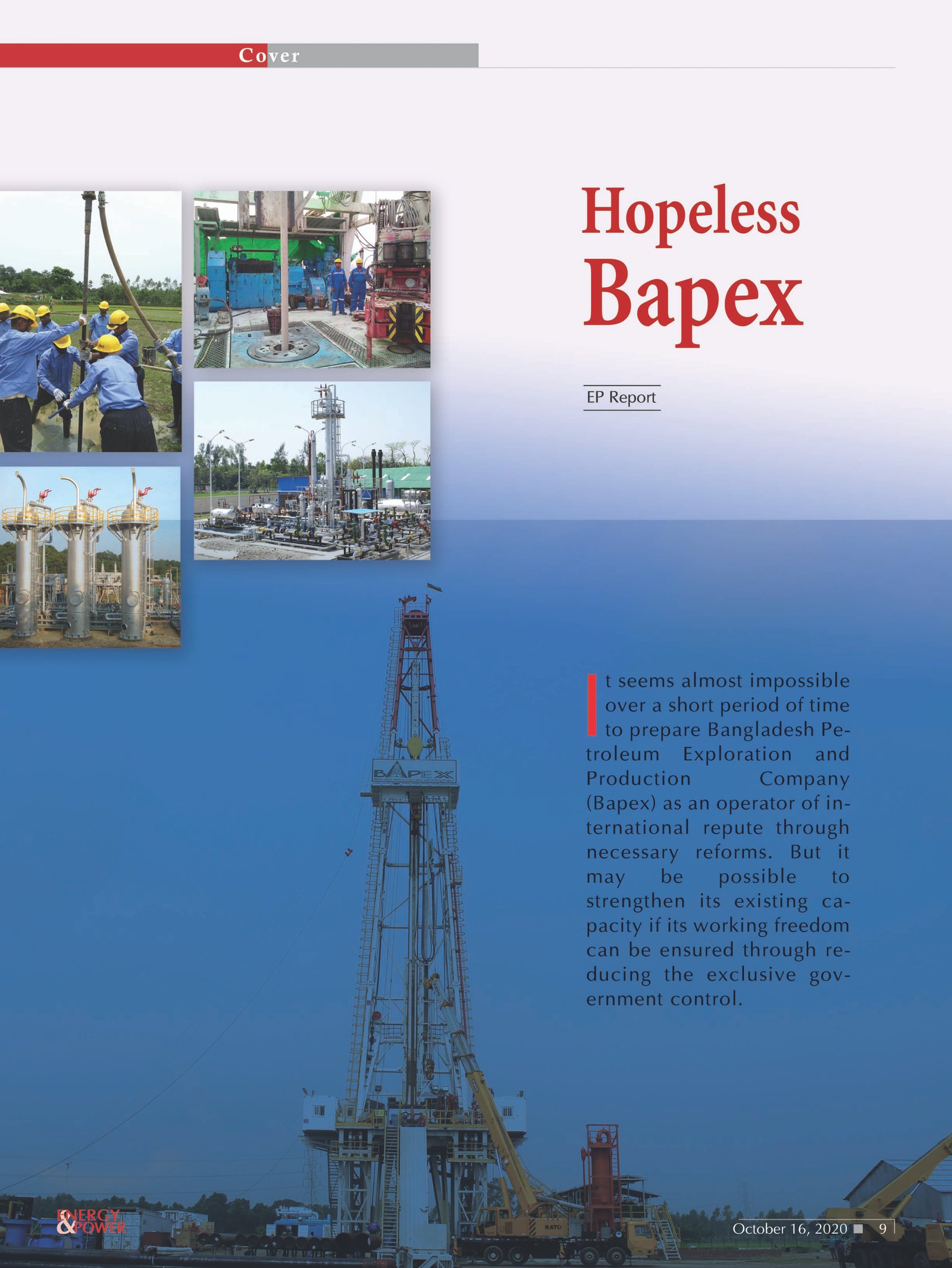 17th October 2020
EP Report
It seems almost impossible over a short period of time to prepare Bangladesh Petroleum Exploration and Production Company (Bapex) as an operator of international repute through necessary reforms. But it may be possible to strengthen its existing capacity if its working freedom can be ensured through reducing the exclusive government control.
Energy experts made the observation at a virtual discussion titled "Exploration and Management Challenges for Bapex" organized by Energy & Power magazine October 3, 2020. Experts, present and some former managing directors of BAPEX and journalists took part in the discussion.
State Minister for Power, Energy & Mineral Resources Nasrul Hamid, however, said Bapex lacks competent and courageous manpower for growing as an autonomous company. In 2015, he advised the company to review its organogram even through engaging a consultant, if necessary. After spending five years, the managing director is now reporting that it would take another 6 months. Former MDs failed to create enabling environment for efficient works. They could not add values and create teams of experts. "I would now say Bapex can never do it on its own. You failed doing these at your time. Bapex has officials those you have left behind. You former MDs have to own the responsibility for their failures too."
After joining the ministry, Mr Nasrul said, he observed that Bapex is the only company which blames its own employees. This is equally true for those who have left as well as those staying now. He also questioned why Bapex could not grow as an exploration and production (E&P) company of international repute after all these years. There is no use talking about it now. The proposal for drilling 108 wells came from Bapex. They could not even identify the locations of the wells and said seismic surveys were faulty. He said the government needs gas, but if Bapex fails to do its job, what are the alternatives left for the government? "After joining the ministry, I asked the then Petrobangla Chairman Dr. Hossain Mansur about the prospect of finding new gas. He said that there exists no possibility. The MD kept mum when his opinion was sought. The MDs do not speak when in service but they emerge as 'tiger cubs' after retirement. Memories usually get blurred after retirement but now I see that it gets sharper for them. Now they start finding the possibilities.
He also refuted that "Will those who went abroad agree to return? I don't think so. They have adjusted to new life styles."
The government has taken 3-4 thousand internees over the past four years to let them feel about the huge scope of works. Even then, most of the engineers are going abroad, he added.
In response to frustration the speakers expressed in the seminar, the State Minister said that there is no reason for frustration. He informed that as far as the performance is concerned, the Energy Division twice became the third among 54 ministries over a period of the government's three terms. "We need to know what Bapex wants. We have given time for the new MD who has just joined. The government wants Bapex to perform its obligations meticulously." He said the Bapex needs to change its attitude to grow as a company of international repute. They have made admirable achievements in recent times, which has not been possible over the past 40 years.
In response to a proposal to provide Bapex with grants, he said that a company getting grants could never become self-sustaining. "The government wants to phase out subsidy."
Replying to a question, Mr. Nasrul said that GAZPROM, a leading energy company in the world, did not directly conduct drilling in Bangladesh and it was done by its sister company. Bapex approved the drilling contractor – the ministry did not impose any decision. The ministry only steps in in the event of payments. Otherwise, it is all up to the Bapex board of directors. In response to another question about following the PPR, he said the board may take decision whether or not to observe PPR. If the board desires, they can resort to the special act – Quick Enhancement of Electricity and Energy Supply (Special Provisions) Act.
Regarding the criticism of engaging private companies, he rather asked, "Was it possible for BPDB alone to achieve the commendable success in power generation without the private sector?" There was huge criticism when the Prime Minister encouraged the private sector to generate power both internally and externally. Some said that the state would become hostage to the businessmen. The present success could not be achieved if the government stepped back at that time. "In some cases, we need hiring experts from outside and, in other cases, we need foreign companies. We have to get experience. We now want to work in high-pressure zones. Is there any experienced professional in Bangladesh now?"
The State Minister also expressed his deep frustration about the local experts, saying: "The experts differ so much about exploration works. Each comes up with confusing ideas. You have to reach meeting of minds. We get confused as we are neither geologists nor petroleum engineers. Let Bapex work on their own. Give them good advice if you want. We do not want to listen to those MDs who did not perform their assigned tasks when they were on the job. I am optimistic about Bapex. Percentage wise, they have past proven records. It is very easy finding faults. But please give them honest advice."
In his keynote presentation, former Managing Director of Bapex Murtaza Ahmed Faruque said talks are going around that the jobs those Bapex is capable to do were being awarded to a foreign company at a cost of US$22 million. The money should be allocated to Bapex as grant to mitigate the financial obligation of the company, which is already reeling under a loan of around Tk 3,000 crore. Only an amount of Tk 25 crore has been repaid. The company is working under huge loan repayment obligations. The government used to provide grants earlier. Depending on discovery, Bapex used to repay at a ratio of 60:40.
Mr. Murtaza said that production from Bibiyana would deplete at a rate of 15-20% soon. Increased import of LNG would be required to manage the eventual deficit. At the same time, we should expedite drilling activities. Joint venture projects with the IOCs can be executed for working in the hill structures. Bapex has four rigs, but there is no hanger for these. Consequently, monsoon rains are damaging the rigs due to keeping in open places. There is a place at Madhabpur in Habiganj which would be good enough for one rig. Abandoned Kamta Gas field area can be used as a location for a hanger. He also suggested adopting experienced, retired Bapex professionals in the Bapex board of directors.
Mr. Murtaza pointed out the frustrations of Bapex employees. In 2011-12, some incentives were given to Bapex. But a daily field allowance of Tk 300 fixed 10 years from now still remained unchanged. This amount is not even enough for daily meals. There was a provision for biannual incentive bonus. This has been withdrawn later. MDs and senior experienced officials are frequently changed. The MDs must be allowed to work for at least three years. Competent professionals may be hired on contract basis if none is available. No exploration company of the world strictly follows PPR. Highly skilled professionals are required in Bapex. Salaries and benefits must be attractive. Otherwise, quality professionals cannot be retained.
Mohammad Ali, Managing Director of Bapex said a consultant is now working for restructuring the company's organogram like that of international standard. Many experienced officials have retired. We are operating the rigs with eight retired officials.
Consulting Editor of Energy & Power magazine and International Energy Consultant Khondkar Saleque mentioned that Bapex is an orphan child of Petrobangla. The first blow to Petrobanla's own exploration capability was served with the introduction of Scimitar in the Surma basin in 1987. Then, Occidental was given the development works of Petrobangla-owned Jalalabad gas field beyond any logic. Final nail in Bapex's coffin was to make it a strategic partner of Niko resources for so-called marginal gas field's development.
Bapex is competent in exploration works in the simple onshore structures, development of wells and work over. Gas fields in Bhola have been discovered by Bapex and they successfully drilled development wells there. Why a foreign company is required there? He thought that assigning Bapex to drill 108 wells was a huge mistake. Conspicuously, GAZPROM proposal appeared at the same time.
Mr. Saleque thought that the Bapex board needs experienced professionals, former senior officials of Bangladesh gas sector, academics of geology department of local universities and petroleum/ chemical/ mechanical engineering departments of technical universities rather than deploying bureaucrats. He mentioned that many trained professionals left Bapex due to deprivation that caused them to become frustrated.
He said there is a genuine concern that if not replenished with some discoveries through expeditious exploration works by 2031, the entire gas reserve would be depleted. He suggested inviting PSC bidding round for onshore areas outside the Bapex's ring-fenced areas and deeper prospects of discovered fields. He said offshore bidding round now may not attract much interest due to the Covid-19 pandemic and consequent oil price shock.
Energy & Power Editor Mollah Amzad Hossain also raised a question as to why GAZPROM has been awarded works in a field discovered by Bapex. We understand that some decisions were taken on geo-political considerations. GAZPROM could have been awarded projects in the offshore if necessary. They could have even worked in the hill structures by forming JV with Bapex. For a long period of time, the power and energy sub-sectors advanced together. Now, the power sub-sector has advanced much ahead, leaving the energy sub-sector way behind.
Major (Rtd.) Muqtadir Ali, former MD of Bapex and former Chairman of Petrobangla and BPC, mentioned that Bapex does not need any partner for the fields they discovered. Rigs and equipment are purchased spending a huge amount of foreign exchange. Bapex can never achieve competence through doing only work overs. He pointed out that busy Bapex board members only open file after coming to the meetings. What decision one can expect from such meetings when most of the members even do not possess any background of exploration and drilling activities. It is frustrating to mentioning that the board members attend the meetings for the sake of their attendance only.
Prof. Badrul Imam of Dhaka University said Bapex has confronted many challenges. Frustrations would definitely strike its employees if their discovered gas fields are handed over to others. Guardians are not solving problems, rather leaving after making sweeping comments. Bapex's interest gets hurt which is extremely unfortunate. Gas fields belonging to Petrobangla companies were handed over to Niko. Two unfortunate blowouts took place. Many stories of scandal emerged.
Prof Dr M Tamim of BUET said the discussion we had today is not any different than what we have been discussing for the last 20 years. On a battleground, you cannot wait for PPR. You need ammunitions to fight. Drilling cannot be done following PPR. Bapex has to work like IOCs. First, we must once for all take policy decision about the role of Bapex. Then, we must decide on actions required to be taken for strengthening Bapex. Required manpower, equipment, freedom of work, rights and obligations must be worked out. The government is in total control of Bapex although it is a company under the company's act. Bapex must be allowed to work as an autonomous body.
Jasimuddin, former executive of BAPEX, said there is no post mortem and analysis of Bapex's works. The company has limitations about knowledge on pay zones of geological structures.
Journalist Arifuzzaman Tuhin stated that GAZPROM was awarded drilling works of 17 wells. The agreement was signed with GAZPROM, Netherlands. But they reassigned the works to ERIEl. Now this is transferred to Halliburton. "Are we handing over our gas fields to the commission agents," he said. The works, which could be done at only Tk 70 crores, are being done by spending Tk 180 crores, he added.
Mr Nasrul Hamid observed that the time for developing Bapex to the level of International Oil Companies (IOCs) has gone past. A company of international standard requires competence of taking own decisions for working independently. Finally, when a company borrows money from the government, it has to oblige standard rules and procedures.
However, Dr. Tamim observed earlier that for exploring new gas resources, a policy decision needs to be taken as soon as possible as a strategy to utilize Bapex. There is no possibility anymore to utilizing it like those of PETRONAS or ONGC. Dr. Badrul Imam thought it would not be appropriate to engage GAZPROM for developing gas field discovered by Bapex. This will erode financial capability of the company.
The energy experts suggested letting Bapex to continue works of 2D and 3D seismic surveys for data acquisitions and interpretations. At the same time, it should identify correct locations for carrying out exploration in the onshore areas. An E&P company must not be restricted to works of work over and development wells only. Apart from simple structures, BAPEX has to start working with difficult, tighter structures also. They could go for joint ventures with reputed international companies for working in some identified structures in the greater Chattogram region and deeper prospects in the high-pressure zones. Bapex can also be considered as joint venture partner of IOCs for offshore exploration.
In conclusion, for developing Bapex as a competent E&P company for oil and gas exploration, there is no option but to change the Bapex management and engaging more experienced as well as competent workforce. Its board of directors requires restructuring with knowledgeable former gas sector professionals of proven track records. Managing Directors should be engaged for longer terms. If such person is not available with Petrobangla family, experts from outside may also be engaged. There was a consensus that work must start soon under a well thought out policy for developing Bapex as a competent exploration company. The objective is to delaying the depletion of domestic gas production.
---