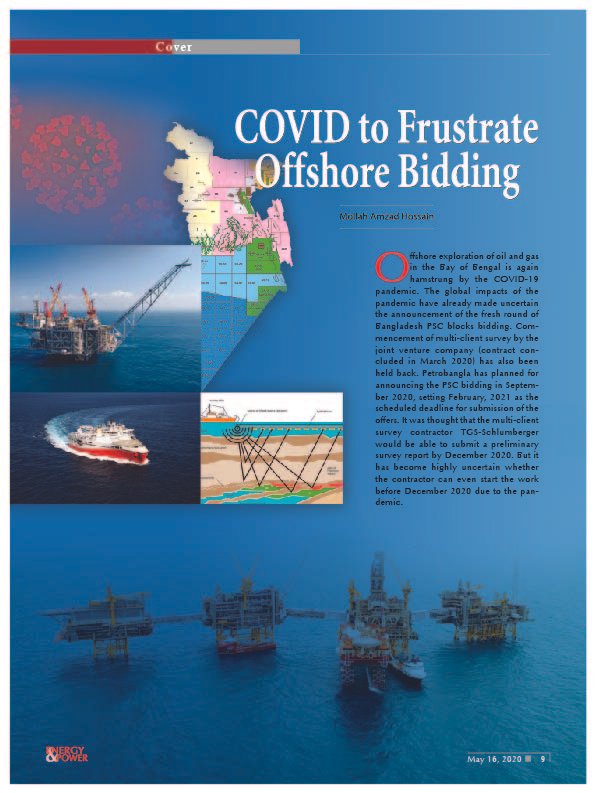 17th May 2020
Mollah Amzad Hossain
Offshore exploration of oil and gas in the Bay of Bengal is again hamstrung by the COVID-19 pandemic. The global impacts of the pandemic have already made uncertain the announcement of the fresh round of Bangladesh PSC blocks bidding. Commencement of multi-client survey by the joint venture company (contract concluded in March 2020) has also been held back. Petrobangla has planned for announcing the PSC bidding in September 2020, setting February, 2021 as the scheduled deadline for submission of the offers. It was thought that the multi-client survey contractor TGS-Schlumberger would be able to submit a preliminary survey report by December 2020. But it has become highly uncertain whether the contractor can even start the work before December 2020 due to the pandemic.
On the other hand, the oil price in the international market fell to its record low, prompting the IOCs, including oil majors, to reduce investment substantially. Consequently, the announcement of the PSC bidding in September 2020 has become uncertain. Experts observed that encouraging responses may not come as expected. However, a former senior executive of Petrobangla observed that attractive gas price offer in the model PSC and an assured market for discovered gas would encourage IOCs even though the price of oil and gas in world market remains at their historic lows. Petrobangla cannot guarantee whether it will be possible for them to announce the bidding round in September. It is being told that due to the ongoing shutdown of office activities, it would not be possible to take firm decision after discussions with relevant stakeholders. But sources close to the Energy Ministry informed the EP that it would not be possible to announce it in September even if the situation gets back to business as usual by July.
India and Myanmar could attract major investments in their maritime territories following the resolutions of the long standing maritime boundary disputes with Bangladesh. In such initiatives, Myanmar managed discovering some large oil and gas structure in the blocks adjacent to Bangladesh. But Bangladesh's endeavor for engaging IOCs through PSC did not receive encouraging response. Experts observed that the Model PSC document did not have required fiscal and financial incentives to prepare and offer win-win propositions. Moreover, Bangladesh does not posses even barely enough data and information on petroleum resources in the Bay of Bengal. This requires gathering and packaging data through multi-client survey. But Petrobangla got handicapped in advancing with their amended and updated PSC as approval process of the evaluated bidder of multi-client contractor took ridiculously over 5 years of time. Finally, it has been possible to sign agreement with a joint venture company in March 2020. This chronological development of events led to a situation after taking all preparations to launch the multi-client survey. But the pandemic and its accelerated spread across the globe has now created a great uncertainty. At this moment it is even not clear how long it would have to wait. Many observed that until sufficient data and information are acquired and packaged, the invitation of PSC bidding would not get expected response.
Over the last 19 years, there has been no mentionable success in oil and gas exploration. No large gas fields could be discovered after Bibiyana. From 2000-2019, only about 2 TCF new gas could be added to the reserve. But during this time, over 12 TCF gas has been consumed. From the remaining recoverable 11 TCF gas reserve, 1 TCF is being consumed at present.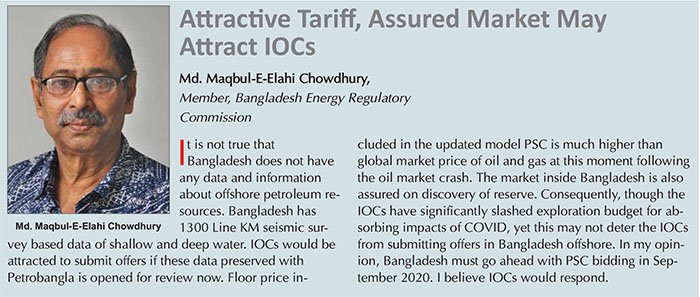 Exploration in our part of the world started in Chattogram region back in 1908. The first gas field was discovered in Sylhet in 1955. Utilization of gas first started in 1959. The period between 1960 and1990 is the most important for Bangladesh. It is the golden period in the context of major gas field discoveries of Bangladesh. Some prolific gas fields were discovered in the eastern region of Bangladesh over this period. Some 88 exploration wells were drilled – 21 of these were drilled in the offshore and 67 in the onshore. Since 1999, the IOCs carried out some exploration sporadically under PSC but mentionable success could not be discovered. PSC bidding in the onshore frontier areas could not be invited. Plans for offshore bidding could be made but exploration in the onshore areas remained in the exclusive domain of BAPEX.
Petrobangla was constrained for PSC bidding round for engaging IOCs in the onshore for a high court directive. Of course that directive has been withdrawn few years back. But successive governments did not take any initiative for onshore bidding. But going by the way of left leaning environmental extremists, governments pursued BAPEX alone policy for onshore exploration. Special mention can be made here of a 5 years' exploration mega plan from 2016 to 2021. The vision was to drill 108 wells including 53 exploration wells. Experts observed right at the outset that it was way beyond BAPEX's capability on standalone basis to implement such over ambitious mega projects. Global policymakers did not pay heed. But the project ultimately died its normal death on the fourth year. Now BAPEX is now working under new short, medium and long term exploration programs.
Over past 10 years, four smaller gas fields could be discovered from 17 exploration wells. Of these, one has already watered out after producing for a while. On the other hand, exploration in offshore areas of the Bay of Bengal could not be started even a long time after successful resolution of maritime boundary disputes with India and Myanmar through historic initiatives of the government. Finally, the government approved updated Model PSC 2019. Experts believed that this would encourage IOCs for submitting offers for exploration in the offshore areas. But the absence of sufficient data and information of possible petroleum resources in the offshore especially of the deep water may work as disincentive. The COVID-19 pandemic has created issues for PSC bidding now. But former director of Petrobangla Md. Maqbul-E-Elahi Chowdhury observed that updated Model PSC provided attractive gas price and the market for gas is also assured in the event of discovery. Hence, if the bidding round is announced in September, in all likelihood there would be encouraging responses. But Pro-Vice Chancellor of BRAC University Prof M Tamim insisted that there is no scope going for PSC bidding right now. Dr. Badrul Imam, Professor of Dhaka University, observed that record decline of oil price in the global market would act as disincentive for IOCs to participate in the bidding process. These two academicians advised waiting and watching and going for bidding at the right time. Reliable database of required geological information must be prepared through completing the multi-client survey as much as possible in the meantime. But Md. Maqbul-E-Elahi Chowdhury thought it may not be possible to invite PSC bidding before 2022 if it had to wait until multi-client survey results. Now, three IOCs are working in four blocks of the offshore. They have completed about 1200-line kilometer 2D and 305 square kilometer 3D seismic surveys. ONGC is drilling an exploration well. On review of these data, it is very much possible going for fresh bidding.
Petrobangla informed the EP about their plans for carrying out more 2D and 3D seismic surveys by 2023. Over the past 10 years, 22 potential structures could be identified through carrying out 28,436-line kilometer 2D and 5000 square kilometer 3D seismic surveys. Plans have been made for completing 11 exploration wells, 14 development wells and 15 work overs by 2023. Over this period, 13 wellhead compressor stations would be installed for ensuring secondary recovery from existing wells.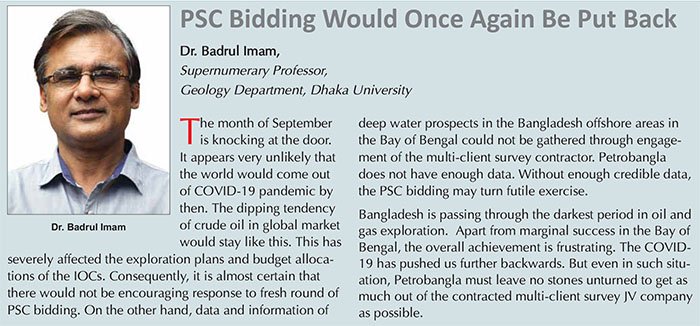 Since commencement of business operation in 1989, BAPEX drilled 15 exploration wells till 2019. From this, 6 gas fields have been discovered, 30 development wells and 31 work over wells could be completed. Around 20,000-line kilometer 2D and 3870 square kilometer 3D seismic surveys have been also accomplished. Besides, BAPEX has taken up a 22-year gas development program from 2019 to 2041. Under this project program, BAPEX will drill 37 exploration, 18 development and 3 work over wells. Of these, 20 exploration wells would be drilled between 2031 and 2041. Russian energy major GAZPROM has signed a MOU with BAPEX on 27 January 2020 for accomplishing these works in joint venture. Petrobangla sources informed that GAZPROM as partner of BAPEX may carry out exploration in the Chittagong Hill Tracts and drilling in the deeper prospects.
BAPEX information states that 9 blocks and some ring-fenced areas have been allocated to BAPEX. They are now working in blocks 8 and 11. On the other hand, according to Petrobangla,from 15 wells of BAPEX operated gas fields, 95.8 MMCFD gas is being supplied to national gas grid as on May 13, 2020. BGFCL is supplying 557.8 MMCFD, SGFL 111 MMCFD, Chevron 1473.5 MMCFD and Kris Energy 100.9 MMCFD. As per Petrobangla plan, 7-9 exploration wells may be drilled in the BAPEX assigned gas blocks. BAPEX would also drill 3 exploration wells in 2020.
Japanese Moeco Mutsui Oil Exploration Company Limited has conducted 2D and 3D seismic surveys in blocks 8 and 11 on their own financing. They are now preparing proposal for joint exploration with BAPEX. Besides, initiatives are being taken for further development of marginal and production suspended gas fields. Preparations are now at the final stages for inviting 4-5 companies for working with BAPEX.
Initiative has also been taken to enhance gas reserve by taking appropriate actions after reviewing data and information of existing gas fields. Under this initiative, Petrobangla has signed a MOU with Chevron for taking appropriate actions on review of data and information of the entire Surma basin. Chevron would submit a report to Petrobangla in about two years after completing the review. For this, Petrobangla would provide all data to Chevron. Relevant experts believe that this may create opportunities for enhancing gas reserve of the existing under-operation gas fields.
Bangladesh is the first country of region to enter oil and gas exploration in the Bay of Bengal. Some 6 PSCs were signed for 6 blocks. From this, US company Union Oil Company discovered Kutubdia gas field. Failing to discover oil, the companies gradually left Bangladesh one by one from 1976 due to various complicacies created in Petrobangla. In 1991, Cairn Energy discovered Shangu gas field in one of the two blocks awarded to them. After producing gas for 10 years, Shangu gas field water out and abandoned. The PSC was assigned to Australian company Santos at some stage of operation. They tried to further develop the field, but could not make notable success. In 1996 bidding, Total Gas won a block and signed PSC. But failing to make economic discovery, they relinquished the block. Similarly, Rexwood and Oakland also left after failing to achieve success following signing of agreement for two offshore blocks.
ConocoPhilips signing PSC with Petrobangla after 2008 block bidding carried out seismic surveys. But failing to renegotiate gas price increase, they also left abandoning the blocks. Three IOCs are now working in 4 blocks in the Bay of Bengal. Indian company ONGC is working shallow offshore blocks SS4 and SS9. Santos-Kris Energy JV is working at SS11. Posco-Daewoo is working in a deep water block. They are also planning to leave failing to pressurize Petrobangla agreeing to their proposal of gas price increase. In its plan for drilling 3 exploration wells, ONGC has started drilling at Kanchon from 20 January 2020. On the other hand, Ophir Energy UK left Bangladesh failing to get Petrobangla approval for reassigning Santos interest of the block to them. Santos is now seeking other partners. Their other partner Kris Energy is also in financial crisis.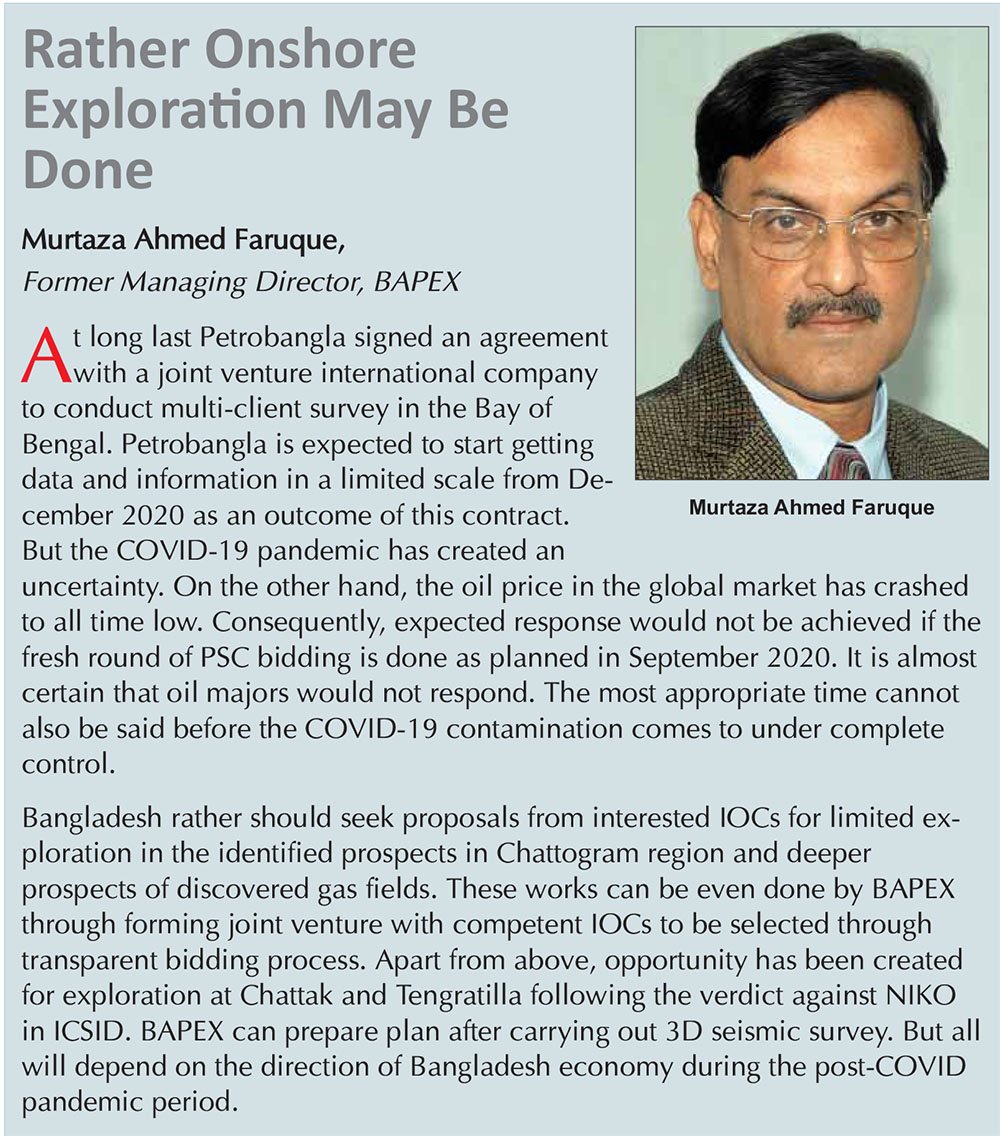 The IOCs were not showing any interest to invest in Bangladesh offshore prior to resolution of maritime boundary disputes with neighbors – Myanmar and India. But Petrobangla failed to create any momentum in offshore exploration years after resolution of the disputes. Experts observed that in the past encouraging response from IOCs could not be attracted for lack of proper financial and fiscal incentives in Model PSC and absence of adequate data and information. In the latest updated model PSC 2019, additional incentives and higher gas price provisions have been included. Petrobangla expects that these will attract IOCs. Petrobangla organized a conference on investment for offshore exploration in 2019. BP, ConocoPhilips, Exxon-Mobil, Chevron, Midfee Japan, ONGC, Santos and PTTEP participated in the conference. Apart from Chevron, all other companies showed keen interest for participating in offshore bidding. But absence of enough data remains a stumbling block. Petrobangla has taken all required preparations for announcing the PSC bidding from September 2020 after getting the Model PSC 2019 approved. It has planned to announce bid submission deadline in February 2021 giving 6 months for preparation.
But the COVID-19 starting at Wuhan of Hubai province of China grew as a global pandemic and has become a major impediment. The pandemic has stalled almost every activity. The general holidays announced in March 26 has now been extended to May 30, 2020 in few steps. There are considerable doubts that the situation would become business as usual condition even after that. Suspension of all economic activities caused oil price in global market depleting to all time low. Consequently, all IOCs started slashing their new investment plans and it continues. Many countries have suspended their PSC bidding round.
It is not yet sure whether Bangladesh would follow the trend. When the attention of Petrobangla Chairman A B M Abdul Fattah was drawn to this, he said that nothing could be said definitely till offices open after the holidays. State Minister for Power, Energy and Mineral Resources did not make any comment. But Petrobangla sources informed that even if the situation gets back to business as usual in July, announcements for PSC bidding cannot be made in September 2020.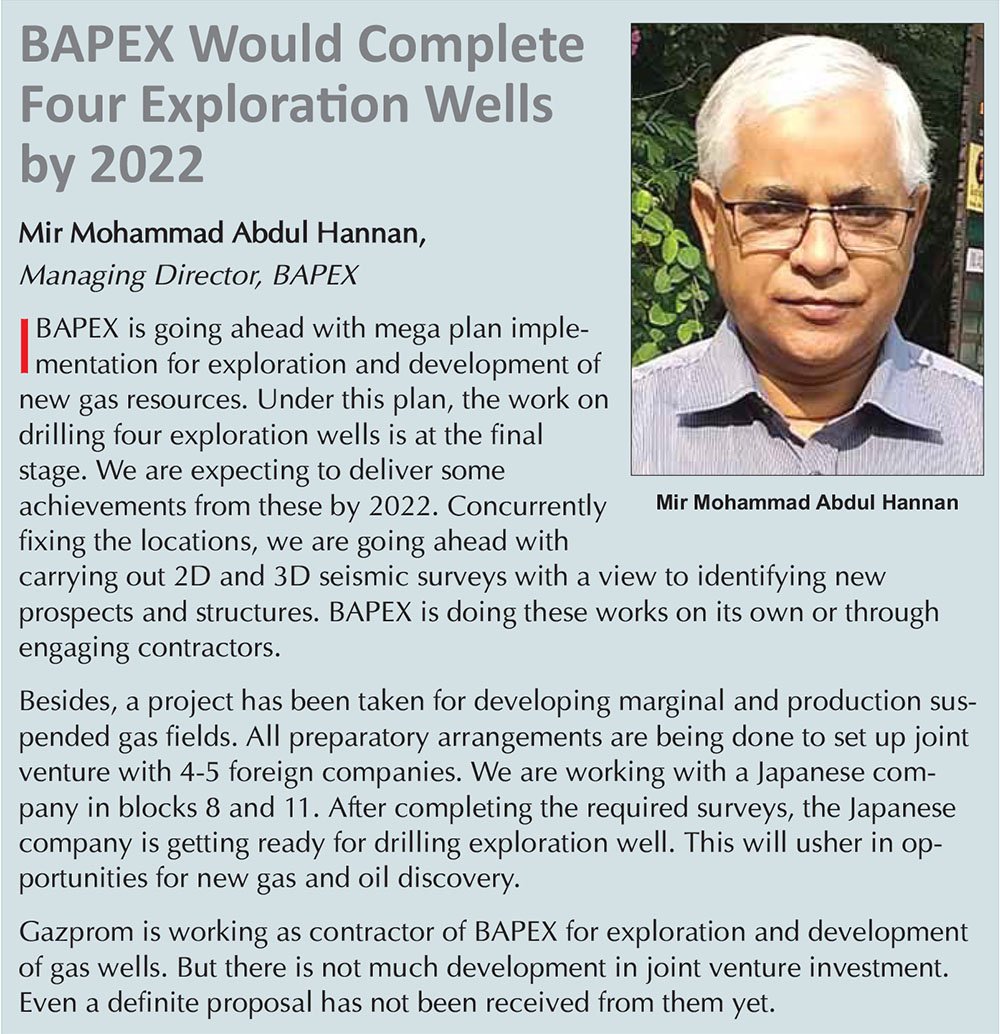 Experts said that Bangladesh initiative for a fresh PSC bidding round entered the pandemic impacted crisis. Not only for Bangladesh, it's also a very difficult time for oil and gas exploration for others. No option is there for Bangladesh but waiting till the economic activities get back to normal after the COVID -19.
---