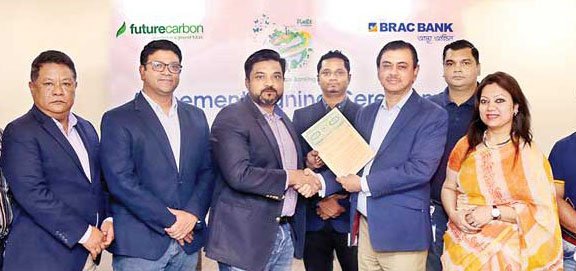 20th March 2020
EP Report
BRAC Bank Limited has ushered a new journey towards sustainability as it signed an agreement with Future Carbon Ltd, a leading environmental consultancy firm in Bangladesh, to combat the adverse impacts of climate change.
Future Carbon Ltd. will assist BRAC Bank to adopt an energy-efficient and carbon neutrality strategy for its in-house operations, making great strides to become the most sustainable bank of the country.
Selim R. F. Hussain, Managing Director and CEO, BRAC Bank Limited; and Ashfaq Ahmed, Managing Director, Future Carbon Ltd.; exchanged the agreement on behalf of the respective organizations at the bank's Head Office in Dhaka recently.
Brigadier General Tushar Kanti Chakma (Retd.), Head of General Services, Tahmina Zaman Khan, Head of Sustainability; Aminul Hoque Sarwar, Head of Procurement, Shahriar Rahman, Senior Manager, Sustainability; BRAC Bank Limited; and Raden Siddiqui, Director of Operations, Future Carbon Ltd; were also present.
Commenting on this occasion, Selim R. F. Hussain, Managing Director and CEO, BRAC Bank Limited; said: "As a member of the Global Alliance for Banking on Values, BRAC Bank believes in the philosophy of people, planet and prosperity and works towards making the environment healthier and planet more habitable for all. BRAC Bank is committed to align its carbon footprint with Paris Agreement and this particular initiative will not only contribute to the sustainable development goals of the country but also will cater to the philosophy of the bank 'People, Planet and Prosperity' within the organizational framework."
---