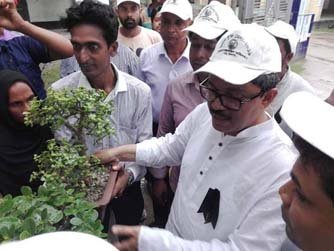 10th September 2019
EP Report
State Minister for Foreign Affairs Shahriar Alam, MP, has said massive tree plantation can help reduce carbon emission to a substantial level and that is very important to face the adverse impact of climate change.
He identically mentioned that there is no alternative to create more forest area which needs creating awareness among the public in general so that they can contribute to this field effectively.
The state minister made this observation while inaugurating a three-day fruit tree fair at Bagha Upazila Parishad premises in the Rajshahi district recently.
Upazila Nirbahi Officer Shahin Reza and Agriculture Extension Officer Shafiullah Sultan also spoke on the occasion.
Shahriar Alam said optimum afforestation could help eradicating protein deficiency side by side with halting degradation of environment and biodiversity making the region a safe habitat for all.
All people irrespective of age, sex, creed and cast should plant at least three saplings around their respective homesteads or on any open space to help maintain environmental and ecological balance and save the region from the wrath of any natural catastrophe.
---