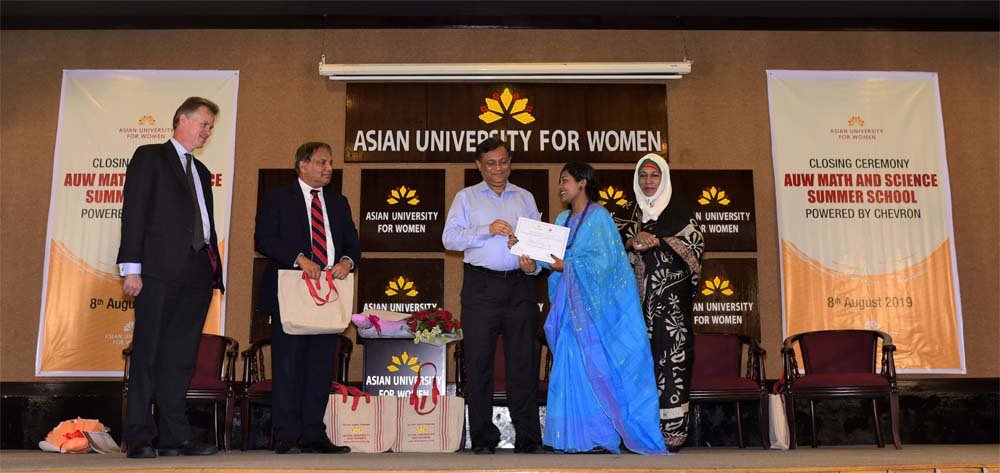 10th September 2019
EP Report
The Asian University for Women (AUW) has taken strides this summer to empower young women in the field of Science, Technology, Engineering and Mathematics (STEM).
The AUW Math & Science Summer School, powered by Chevron, selected 61 of the brightest female high school students across Bangladesh to participate in an intensive five-week program focused on STEM subjects.
The summer program equipped students with the competence and skills necessary to excel in STEM-oriented further studies and careers.
The AUW Math & Science Summer School concluded with a Closing Ceremony at the Asian University for Women campus in Chittagong, Bangladesh on August 8, 2019.
Special guests of the event included Mr. Ismail Chowdhury, Director of Corporate Affairs of Chevron Bangladesh and Mrs. Waseka Ayesha Khan, Member of Parliament, Chattogram, Bangladesh.
Mr. Chowdhury commended the initiative and expressed his pleasure with the collaboration between AUW and Chevron. Mrs. Khan believes programs such as this one will actively encourage young Bangladeshi women to engage in STEM education.
Minister of Information Dr Hasan Mahmud addressed the audience as Chief Guest saying, "AUW brings a source of pride for Bangladesh and Chittagong. AUW is a world-class university by all standards and AUW doesn't only educate women; it empowers women. I encourage you all not just to dream big, but to combine your dreams with your efforts to reach your goals."
---