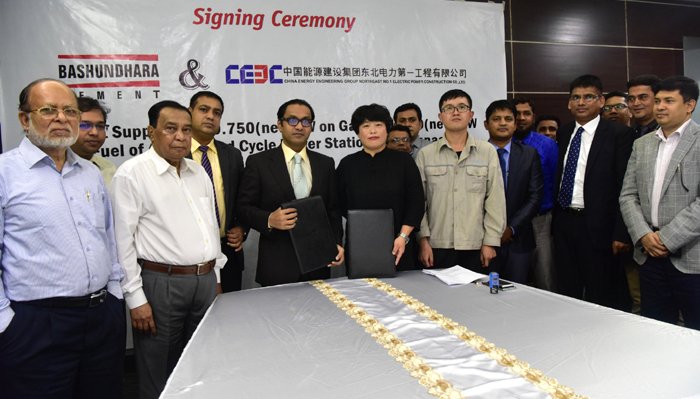 3rd August 2019
EP Report
Bashundhara cement is going to be used for construction of a dual fuel-fired combined cycle power station at Meghnaghat in Narayanganj.
Bashundhara Group, the country's largest business conglomerate, has been supplying cement to Padma Bridge, Metro Rail, Elevated Expressway, Rooppur Nuclear Power Plant, Matarbari Thermal Power Plant, Paira Bridge, Rupsha Rail Bridge, Rampal Power Plant and other mega projects.
As part of its participation in the construction of physical infrastructures in the country, Bashundhara Group has signed a deal with a leading Chinese company for the construction of the power plant at Meghnaghat.
Bashundhara Industrial Complex Limited has entered into a contract with China Energy Engineering Group Northeast No 1 Electric Power Construction Limited (NEPC).
Bashundhara Group Managing Director Sayem Sobhan Anvir and NEPC Project Material Purchasing Manager Xie Jing signed the deal.
The signing ceremony was held at Bashundhara Industrial Headquarters-1 in Bashundhara Residential Area of the capital on Tuesday.
---