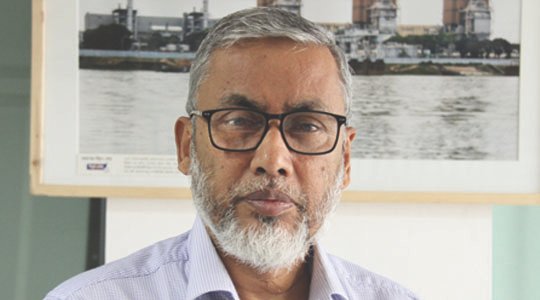 6th July 2019
Engr. A M M Sazzadur Rahman
The allegations of higher expenditure and non-transparency raised by the Consumer Association of Bangladesh against the public sector companies are not applicable for Ashuganj Power Station Company Limited (APSCL). Rather, we are setting up power plants on the basis of competition. We are borrowing from the bank. After that, we are supplying power to Bangladesh Power Development Board (BPDB) at less than Tk 2.00 on average. This is playing a major role in reducing the overall generation cost of power.
Engr. A M M Sazzadur Rahman, Managing Director of APSCL, said this in an exclusive interview with Energy & Power Editor Mollah Amzad Hossain.
APSCL completed 16th year of its operation in June 2019. Your achievement is greater than other public sector power generation companies. The installed generation capacity of the company now is 1,876 MW though the derated capacity has dropped to 1,627MW. What management strategy made this possible?
Ashuganj is an old power generation hub. BPDB continued power generation from some plants set up here. A separate company under the name of Ashuganj Power Station Company Limited (APSCL) was created in 2000 with the under operation power plants. It started operation in 2003. At that time APSCL activities were limited to operation and maintenance of exiting power plants only.
But 2009 was the turning point for APSCL. Amidst chronic power crisis, the Awami League-led government assumed state power through winning the election. Massive initiatives were launched for increasing power generation. APSCL was given directive to increase generation. We were given permission to shut down our unit four for maintenance on condition of adding a new unit in the quickest possible time. For difficulties in getting soft loans, initiative was taken for setting up a 50 MW modular unit by investing own money. Standard Chartered Bank (SCB) provided some loan for it at that time.
Following this initiative, SCB also showed interest to arrange ECA loan. At that time, an initiative for setting up a 225 MW combined cycle power plant after completion of feasibility study was waiting for financing. After signing MoU with the SCB, the tender was invited in 2011 and physical construction started in 2013. This plant commenced commercial operation from December 2015. Other banks started approaching for providing ECA loans spurred by the success of the above initiative. HSBC sent us similar proposal as SCB. The prospects of getting a loan from ADB for South 450 MW Combined Cycled Plant being diminished, the project was launched with HSBC loan. Feasibility study for the plant was completed earlier. This plant came into commercial operation in July 2016. The North 450 MW CCPP power plant construction started immediately after that. ABD and IDB jointly provided loan for this. The plant came into commercial operation on time in June 2017.
The first power plant under Public Private Partnership (PPP) was set up in Ashuganj. We implemented 200 MW project with United Group. We have 29% share in that. It started operation in May 2016. We have taken up Ashuganj East 400 MW CCPP power plant project. ADB and IDB have provided loan here too. We are also going to replace the older units soon.
Petrobangla is not increasing the gas supply. We have to increase power generation with 239 MMCFD gas allocated for us. For the gas supply restriction, we could never generate to our full capacity.
Your Company is continuing massive efforts to achieve 7,000 MW capacity in 10-12 years by 2030. How optimistic you are about it? What strategy you are pursuing for achieving this?
I have already mentioned about the construction of 400 MW CCPP Ashuganj East power plant, which was started in July 2018. Besides this, we have taken initiative for setting up another power generation hub at Patuakhali in the south. Works for acquiring 930 acres of land has started for it. Our plan is to bring 2,640 MW coal based power generation into operation by 2030 there. It will be a joint venture initiative. APSCL has already signed a MOU with a Chinese company China Energy for it. Discussion on setting up of a joint venture company is ongoing. A 1,320 MW (2x660) power plant will be set up in the first phase and will be followed up by a similar unit. We are expecting finance from Chinese EXIM Bank for this.
We also expect that physical construction can be started by 2020 after completing land development.
Till now Ashuganj is the largest power generation hub. But in few years major generation hub would be operational at Payra, Matarbari –Maheshkhali. How much more capacity can be added to Ashuganj you think?
Please note that Ashuganj has space constraint. There exists restriction of gas supply as per demand. We are trying to increase generation by using our allotted gas through enhancing efficiency. We have plans for replacing three old units of 150 MW each capacity in the future with fuel efficient units.
Among the generation companies you are the trend setter for the Power Plant development under PPP. How much positive impacts PPP can create in increasing power generation?
Please note that for large coal and LNG based power plants, we need foreign partners. Local entrepreneurs are not much interested for this. But we are endeavoring for setting up 200 MW power plants following PPP model. All other companies can work with PPP model taking local private companies as partner. We consider this as a good model.
You have started works for imported coal fired power plants 2X600 MW first phase and another similar unit in subsequent phase at Patuakhali. Your company has extensive experience in gas based power generation. Why you are diversifying to coal? Whom you are taking as JV partner for this?
Taking into consideration our experience and the prospect of getting finance, we like BPDB, NWPGCL and RPCL have taken initiative for setting up coal fired power generation plants under Joint Venture. Our JV partner is China Energy.
Payra Port Authority failed to make noticeable progress in developing coal port. Consequently, the present plan of importing coal by using smaller vessels has raised concerns about increased generation cost. If Payra Port Authority ultimately fails to develop deep sea port, will you review your imported coal based power generation initiative? The generation cost may shoot up 20-30% if port facility is not developed.
Coal transportation is a major challenge undoubtedly as we do not have port facilities. Payra Port Authority has plan for a deep sea port. We are continuing discussions with them. A draft contract has also been initialed. We are expecting that deep sea port would be operational before we make our first phase of generation unit ready for commercial operation.
CAB is open talking about tariff setting mechanism and higher project costs of public sector companies. It is being told that these have increased average power generation costs and end users are bearing the burnt of these. How will you evaluate this allegation?
There is no scope of making these allegations against APSCL. Failing to get soft term loans from development partners for new projects, we are taking ECA loans. The interest rate is higher. But in over all consideration, our ECA cost is comparatively less. The average cost of generation is less and we are supplying power at Tk 2.00 per unit to BPDB. BPDB instead of making loss is actually making profit through purchasing power from us. This is rather restricting average cost of power generation within tolerable limit. We must remember that the reason for higher cost of generation is higher cost of fuel, not in any way corruption.
Efficient manpower is a crisis in power sector. It has not been possible for developing enough efficient manpower by keeping pace with rapid development of the power sector. What strategy you are following for recruiting qualified manpower and developing expertise through training? What is your policy for retaining in service the efficient manpower?
Manpower crisis for us is not an issue. We can efficiently operate and maintain all our plants as we have required experienced local manpower. Manpower development conditions are included in all contracts for new power plants. Salary structure of the company is also attractive now. We are not facing any problem in retaining efficient manpower in our company. Our manpower is not going to private sector companies. Rather they are joining us from private companies.
Till now you are dealing with fossil fuel only. You have made some plans for renewable power generation. What are these plans and when these will come into operation?
We are working on grid-connected solar power project. A char beside Bhairab has 300-400 acres of non-cultivable land. We are trying to acquire this. We have plan for setting up a 100 MW solar power plant there. We had a plan for setting up a similar solar plant at a char of Padma River in Rajshahi. But a study of Power Cell proved that the location is not suitable for solar power plant. We have abandoned that plan.
Do you have a plan to go to money market for raising capital in future for enhancing investment portfolio?
We have issued TK 500 crores worth of bond for enhancing our investment capacity. We are working on issuing Tk 100 worth shares each to the market. The 100% ownership of APSCL belongs to the government. Our board of directors would decide whether APSCL would go to money market for harnessing capital.
No great creation can be made unless one dream for it. APSCL is the achievement of such dream. What are your future dreams?
Please note our dreams have to be centered around the government plan. Pursuing that, we are working to achieve 7,000 MW capacity by 2030 and 10,000 MW by 2041. There is scope of expansion in Ashuganj hub. By 2025, we will replace three 150 MW units with fuel efficient plants. Investment is not an issue for this. Rather getting gas and LNG supply is an issue. We want to expect that Petrobangla will be able to meet our demand.
An allegation of corruption against a former Managing Director of APSCL published in the media became a talk of the sector. Did you carry out any investigation?
No investigation was conducted from the company. Power division set up a committee. I have no idea about the report of the committee. But I have an observation about it. A contemporary EPC cost of another company was much higher. We have done the work at US$ 207 million. ADB being the financer, they evaluated the financial proposal. The incident of corruption is not clear to me.
---