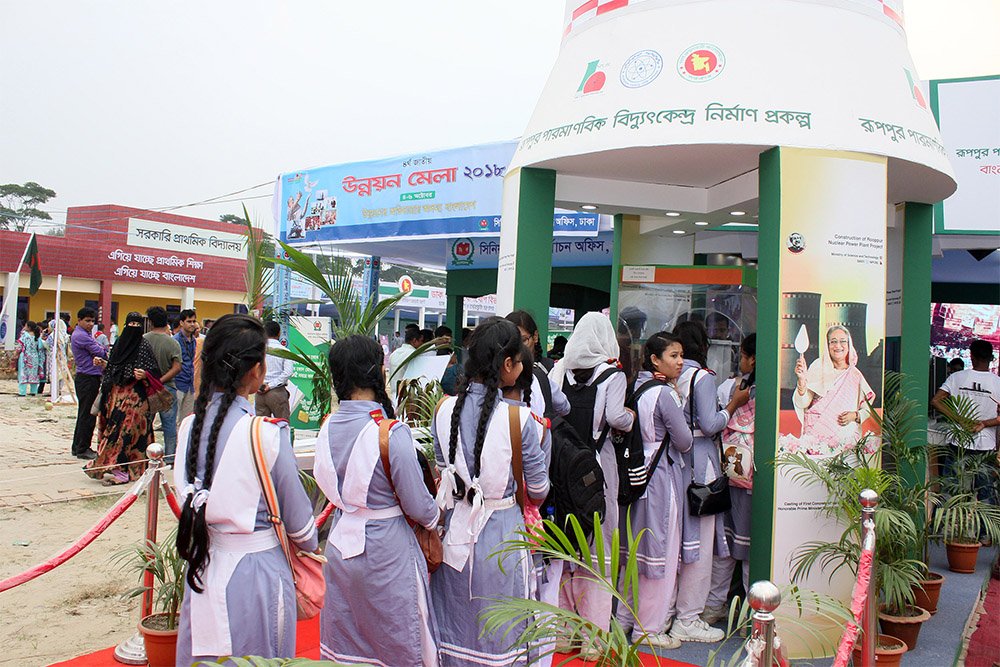 To create awareness about the safety and eco-friendliness of the under construction Rooppur Nuclear Power Plant, modern nuclear technology and its versatile use Bangladesh Atomic Energy Commission (BAEC) actively participated at The Jatiya Unnayan Mela 2018 held from October 4 to 6. Hundreds and thousands of people specially representatives of young generation visited the Rooppur Nuclear Power Plant stalls, set up in Dhaka, Pabna , Kushtia and Ishwardi fair venues.
The eye-catching design of the Rooppur nuclear power plant (RNPP) pavilion at Dhaka Fair venue was inspired by the design of the cooling towers to be built at the Bangladesh's first ever nuclear power plant at Rooppur of Ishwardi. Stalls at other venues were decorated with various infographics, interesting photos and models relevant to Rooppur Plant, nuclear energy and technology.
Bangladesh Atomic Energy Commission and Russia's Rosatom State Corporation jointly organized various educational and entertainment program for the visitors including demonstration of Bangla documentary film, video games, quiz competition among others. Different leaflets and booklets in Bangla on nuclear power were distributed among the visitors while the BAEC and ROSATOM staffs answered to their various inquires related to nuclear energy.
Rooppur nuclear power plant at Ishwardi of Pabna district is being set up with the technological and financial assistance from Russia, which is considered to be the global leader in construction of nuclear power plants. The power project will have two units each of 1,200 MW capacity. Latest 3+ Generation VVER- 1200 reactors to be set up there which completely meet up the safety requirements set by International Atomic Energy Agency (IAEA).
---