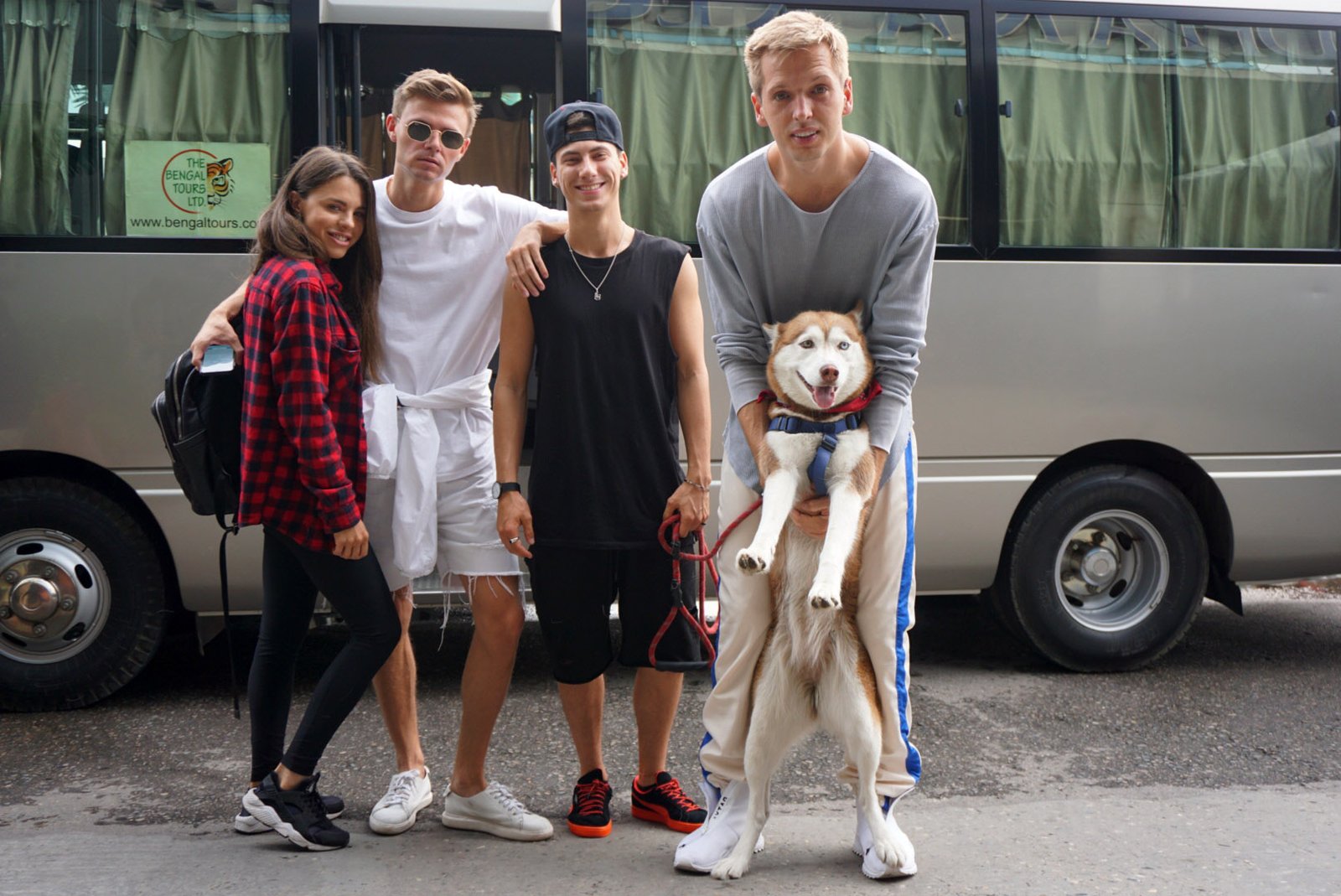 Dhaka, September 25, 2018- To project Bangladesh, its tourism potentials in Russia and to impart a new dimension in bilateral relations, four top Russian bloggers arrived in Dhaka on Monday.
Their eight-day trip has been organized by ASE Group of Companies, an engineering division of Rosatom State Atomic Energy Corporation Rosatom, responsible for the construction of Rooppur Nuclear Power Plant.
The bloggers will travel around various tourist attractions and will get acquainted with the people and their traditional lifestyle, culture, heritage and share their first-hand experience in their respective blogs.
The programme includes visit of Tangail, Mahasthangarh, Paharpur, Bagerhat, Sundarban, Chattogram, Bandarban, among many other places. The Blogger group will see for themselves the ongoing construction work of Rooppur plant, which has become symbol of Bangladesh-Russia friendship.
"The visit by the top Russian Bloggers is a testament of our commitment to friendly Bangladesh. We are happy to somehow be a part of country's rapid socio-economic development," said Alexander Khazin, Senior Vice President for International Project of ASE Group of Companies.
"While Bangladesh aims to become a developed country by 2041, demand for green and clean energy is estimated to rise manifold. I firmly believe that Rooppur Nuclear Power Plant will play a significant role in meeting that demand."
He further informed that annually 392 GW of nuclear power is generated worldwide, saving 2 billion tons of carbon dioxide emissions every year. This is equivalent to the cleansing effect by all the forests on earth combined, which consume 2.5 billion tons of CO2 annually.
Welcoming the bloggers to Bangladesh Kazi Wahidul Alam, a leading aviation and tourism expert of Bangladesh said, "The Rooppur Nuclear Power Plant has created a unique opportunity for the emerging tourism sector of Bangladesh. I hope our friendly Russian guests will help create a positive image of the country, which ultimately will attract more foreign tourists."
"I think Rooppur plant has provided us a platform for cultural and other forms of exchanges and most importantly scope of direct contact among the people of Russia and Bangladesh," Kazi Wahidul Alam added.
The bloggers group includes Oleg Cricket (Instagram: @olegcricket), Dmitry Lazykin (Instagram: @dimalazykin), Irina Goldman (Instagram: @veryire) and Nikita Teterev (Instagram: @nikita_teterev) together they have more than 16 lakh followers on the Instagram.
Oleg Cricket has around one million followers on Instagram. According to some media he is currently the most popular Russian travel blogger. Dmitry Lazykin is a fashion blogger, while Nikita Teterev is a professional videographer and champion of Europe in Parkour Sport.
Irina Goldman, former Editor of world`s famous fashion magazine Cosmopolitan. She is famous for her blog on Instagram and her pet dog- Space (Siberian Husky breed), with which she travels around the world. Irina and Space have recently climbed the Elbrus, the highest mountain in Europe (5642 m). She also travels Bangladesh with Space.
"I am so excited to visit Bangladesh, as it is the second country for me in Asia after Thailand. After my last vacations in Europe I felt bored and looking for something new to explore. Bangladesh is like an unknown planet, the whole new world and I am sure that the trip will become a source of inspiration for me. I would like to meet Bangladeshi people, to see how they live", says Irina.
Caption: Four top Russian bloggers Oleg Cricket, Dmitry Lazykin, Irina Goldman, Nikita Teterev along with the accompanying dog- Space upon arrival in Dhaka.
---