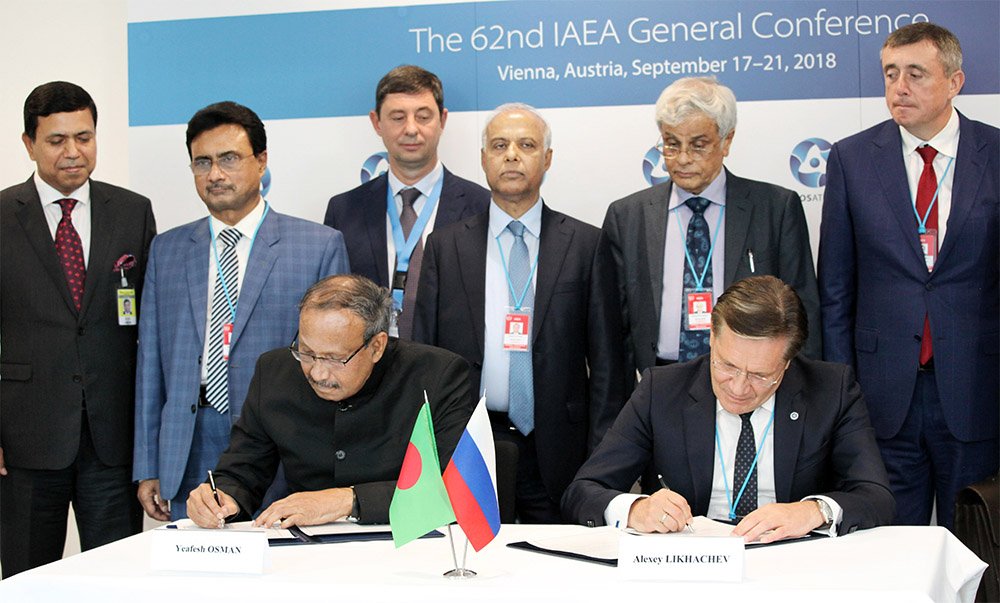 On sideline of the 62nd General Conference of International Atomic Energy Agency (IAEA) being held in Vienna Bangladesh and Russia have signed a protocol yesterday, September, 17 to bring in some amendments in the intergovernmental agreement signed on November 2, 2010 on partnership in construction of a nuclear power plant in Bangladesh.
Architect Yeafesh Osman, Minister for Science and Technology, Government of Bangladesh and Alexey Likhachev, Director General of Rosatom State Atomic Energy Corporation, Russia signed the Protocol on behalf of their respective Governments.
The protocol provides for the possibility of involving a specialized Russian company in designing and installation of physical protection system for the main and auxiliary facilities of the Rooppur Nuclear Power Plant.
The Protocol also includes the clause saying that all the safety and security measures to ensure physical protection of the nuclear power plant to be taken in accordance with the requirements and guidelines of IAEA.
Rooppur NPP with two VVER-1200 reactors, each of 1,200MW capacity is being constructed by Atomstroyexport (ASE), Engineering Division of Rosatom State Atomic Energy Corporation of Russia under strict monitoring by International Atomic Energy Agency (IAEA) and Bangladesh Atomic Energy Regulatory Authority (BAERA).
---