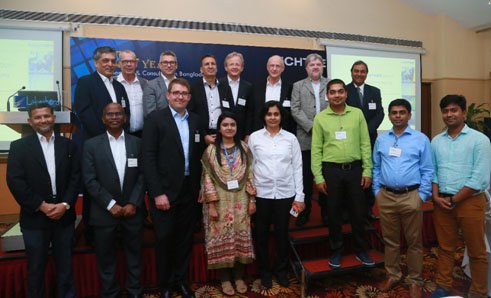 The worldwide renowned Fichtner Group, Germany's biggest independent engineering and consultancy enterprise in the fields of infrastructure, is very happy about the opening of Bangladesh Branch in Dhaka yesterday, thus now providing a fully licensed permanent establishment in the country.
During the event local and international experts delivered presentations on latest developments in infrastructure sector. Mr. Tawfiq Ali, Chief Representative of Commerzbank, explained ECA - Export Credit Agency Finance. Barrister Omar H. Khan, Legal Counsel, elucidated the Environmental Impact Assessment Process in Bangladesh and Mr. Shahriar Chowdhury, Director Centre for Energy Research and United International University spoke about Perspectives of Renewables in Bangladesh explicitly about solar solutions and mini grids. Fichtner Specialists introduces into the company's business sectors Energy, Renewable Energies & Environment, Water& infrastructure and Consulting & IT.
Mr. Michael Schultheiss, Deputy Head of Mission German Embassy, greeted all guests expressing the Embassy's appreciation of Fichtner's long standing engagement in the country.
The Branch Office in Dhaka ensures permanent direct representation and activities of Fichtner Group in Bangladesh liaising with Public and Private Clients and Partners on developing and implementation of infrastructural projects.
Fichtner is very proud servicing the country for more than 50 years and are strongly convinced that the new permanent establishment will strengthen their performance in booming Bangladesh market.
Fichtner have a very long list of successful projects performed or ongoing in the country.
Fichtner Bangladesh Branch is grateful to their Clients who entrust in their outstanding expertise and experience, encouraging them to contribute to the development of the Nation. Fichtner BD Branch stated that it is their pleasure to provide sound and reliable services for the Best of Bangladesh.
---