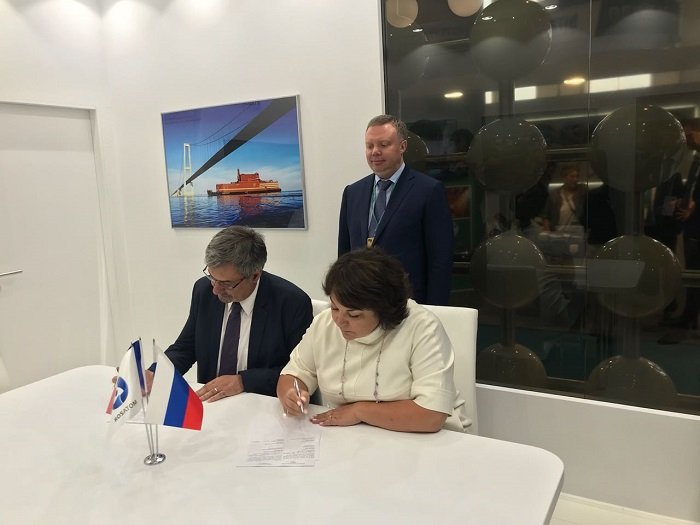 Dhaka, July 2, 2018 (PR) - Rusatom Smart Utilities (ITPC) – a division of the Rosatom State Nuclear Energy Corporation, Russia and SUEZ signed a Memorandum of understanding for water desalination, water treatment and waste water treatment. Ksenia Sukhotina, Director General of ITPC and Frederic Hisbergues, Executive Director, Global Power Market of SUEZ signed the MoU during the World Nuclear Exhibition, held in Paris recently.
The strategic cooperation between the SUEZ and Rosatom will provide scope of work for relevant projects, including equipment, components and assemblies of desalination plants, water treatment and waste water treatment systems supply. In particular, cooperation will be directed to the implementation of such probable projects as treated (fresh) water supply, water projects in crude oil and gas industry, smart water facility (within the frame of smart city program), etc.
"Rosatom has unique experience in the field of nuclear desalination, as well as the high-tech production base and the rich experience in creating world-class engineering facilities," said Kirill Komarov, First Deputy General Director for Corporate Development and International Business of Rosatom. "Together with SUEZ, a leader in the field of water technologies, we will be able to achieve a synergistic effect, which eventually will give both companies new opportunities in the world water market, will allow to acquire new market segments", he noted.
"We are proud to enter in a partnership with ROSATOM as it expands into new markets and geographies. This agreement will allow us to explore new opportunities of cooperation in the fields of desalination and water reuse for industries and support smart city programs in Russia and abroad", said Heiner Markhoff, CEO, SUEZ Water Technologies and Solutions.
With 90,000 people in five continents, SUEZ is a world leader in smart and sustainable resource management. SUEZ provides water and waste management solutions that enable cities and industries to optimize their resource management and strengthen their environmental and economic performances, in line with regulatory standards.
Rusatom Smart Utilities, a trademark of "Integrated Thermal Power Company" (ITPC), is a ROSATOM company, which is responsible for promotion, marketing and sales of "Clean Water" and "Smart City" projects. "Clean water" includes seawater desalination, water treatment and water purification, while "Smart City" includes solutions for renovation and digital upgrade of city services and utilities.
---