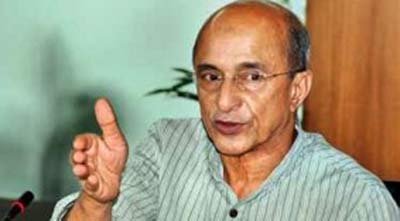 NEW DELHI, April 12, 2018 (BSS) - Prime Minister's energy affairs advisor Dr Tawfiq-e-Elahi Chowdhury today called for "responsible use of energy" on global basis against the backdrop of its demand growth as he joined an international energy meet in the Indian capital here.
"The responsible use of energy is very crucial," a press release quoted him as saying while attending the three-day the 16th International Energy Forum in New Delhi here.
He added that the growing demand for energy in Bangladesh as elsewhere in the world, requires a big push to innovation and creativity.
Indian Prime Minister Narendra Modi opened the meet joined by more than 200 foreign delegates including the energy ministers from 72 countries.
Chowdhury participated in a panel discussion as a distinguished panelist in a session titled "Sustainable and Inclusive Growth: Energy Access and Affordability" and gave an account of the socio economic progress of Bangladesh and resulting rise in energy demand.
He said under Prime Minister Sheikh Hasina's leadership Bangladesh was working on the right energy mix also referring to the frontier technology in energy and its potentials.
On the sidelines of the conference, Chowdhury held bilateral meeting with the Indian Minister for Petroleum and Natural Gas, Shri Dharmendra Pradhan when he expressed his satisfaction at the current energy relations between Bangladesh and India.
During his stay in Delhi, he also met Energy Minister of Nepal with the talks focusing on promoting bilateral energy cooperation. In addition, he met with several private sector representatives.
International Energy Forum (IEF) is the world's largest recurring gathering of energy ministers on contemporary issues while the 16th IEF is focusing on long term energy policy and governance.
---