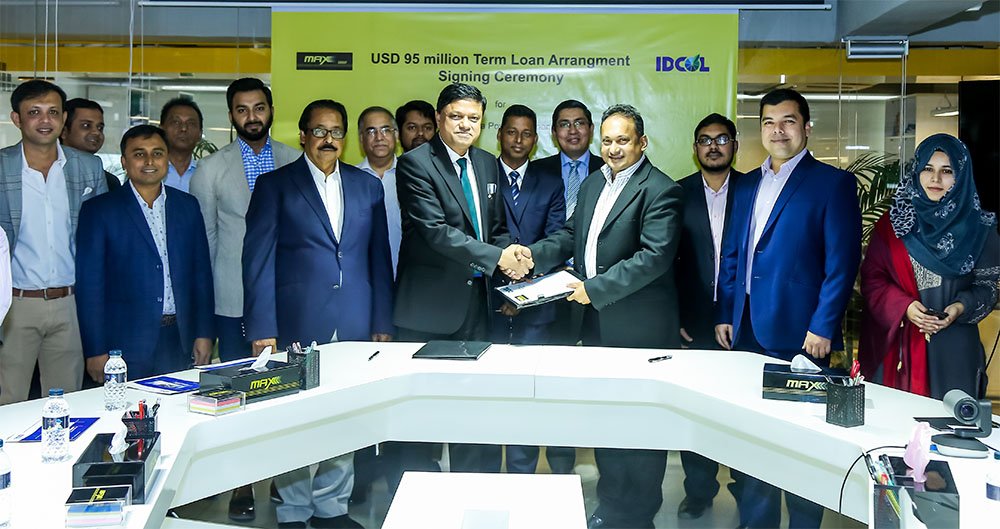 Dhaka, April 5, 2018 (PR) - Infrastructure Development Company Limited (IDCOL), a government owned development financial institution involved in private sector energy and infrastructure financing in Bangladesh, has recently signed a mandate letter with Max Group to raise USD 95 million term loan facility for establishment of 163MW Gas based Combined Cycle IPP at Fenchuganj, Sylhet by Kushiara Power Company Limited (KPCL).
Total project cost is estimatedto be USD 139 million with brand new Gas Turbine, Steam Turbine and HRSG, total power train from GE Energy. Max Infrastructure Limited is the turnkey EPC solution provider for KPCL. The said plant will be established on BOO basis under 22 year Power Purchase Agreement with Bangladesh Power Development Board (BPDB). KPCL already started its simple cycle commercial operation from July 2017 and expected to achieve combined cycle commercial operation by 15 May 2018.
The program was graced by Mr. Mahmood Malik, Executive Director & CEO of IDCOL and Mr. Eng. Ghulam Mohammed Alomgir, Chairman of Max Group. Senior Officials and other team members from IDCOL and Max Group were also present at the signing event including Mr. Mahmud Us Samad Chowdhury.
IDCOL, the largest energy and infrastructure financier of the country, has already financed power projects supplying more than 1,665 MW to the national grid. IDCOL looks forward to investing additional USD 1 billion by 2021 for development of priority infrastructure projects in Bangladesh.
---