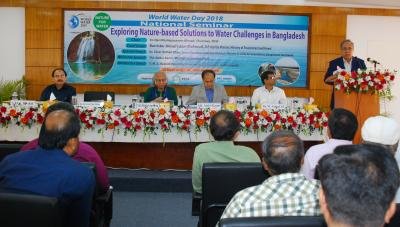 DHAKA, March 21, 2018 (BSS) - Water experts at a seminar here today said the country needs to take integrated approach for ensuring better water management to protect the environment maintaining ecological balance of planet.
As water is essential element of the planet, the people should ensure its proper use and stop all sorts of water pollution, they told the seminar on "Exploring Nature-based Solutions to Water Challenges in Bangladesh" at the PKSF Bhaban, a press release said.
Palli Karma-Sahayak Foundation (PKSF) and NGO Forum for Public Health jointly organized the seminar on the occasion of the World Water Day with the theme of "Nature for Water".
Environment and Forest Minister Barrister Anisul Islam Mahmud addressed the seminar as the chief guest while Prof Dr. M. Ashraf Ali of Department of Civil Engineering, Environmental Engineering Division of Bangladesh University and Engineering and Technology (BUET) presented the key-note paper at the seminar.
Managing Director of PKSF Md. Abdul Karim, Executive Director of NGO Forum for Public Health S.M.A. Rashid, representatives from different government and non-government organizations, among others, addressed with Chairman of Palli Karma-Sahayak Foundation (PKSF) Dr. Qazi Kholiquzzaman Ahmad in the chair.
Anisul called for adopting and integrating eco-friendly technological solutions into country's development projects to minimize domestic environmental challenges.
"We have built buffer zones across our rivers, to create room for the river. But people have started residing in those areas; consequently houses are built, roads are constructed, markets are established. In the end, the buffer zones are missing causing floods," he said.
Dr. Qazi Kholiquzzaman stressed the need for identifying water management system that will save the environment and ecology. He mentioned that PKSF has been promoting poor people's access to safe water through keeping the environment and ecology unhampered.
Dr. M. Ashraf Ali said almost half of our wetlands have disappeared and all domestic sewage and most part of the industrial wastewater are being discharged into natural environment without treatment.
Rashid laid emphasis on adopting area-wise integrated water resources management based projects.
---