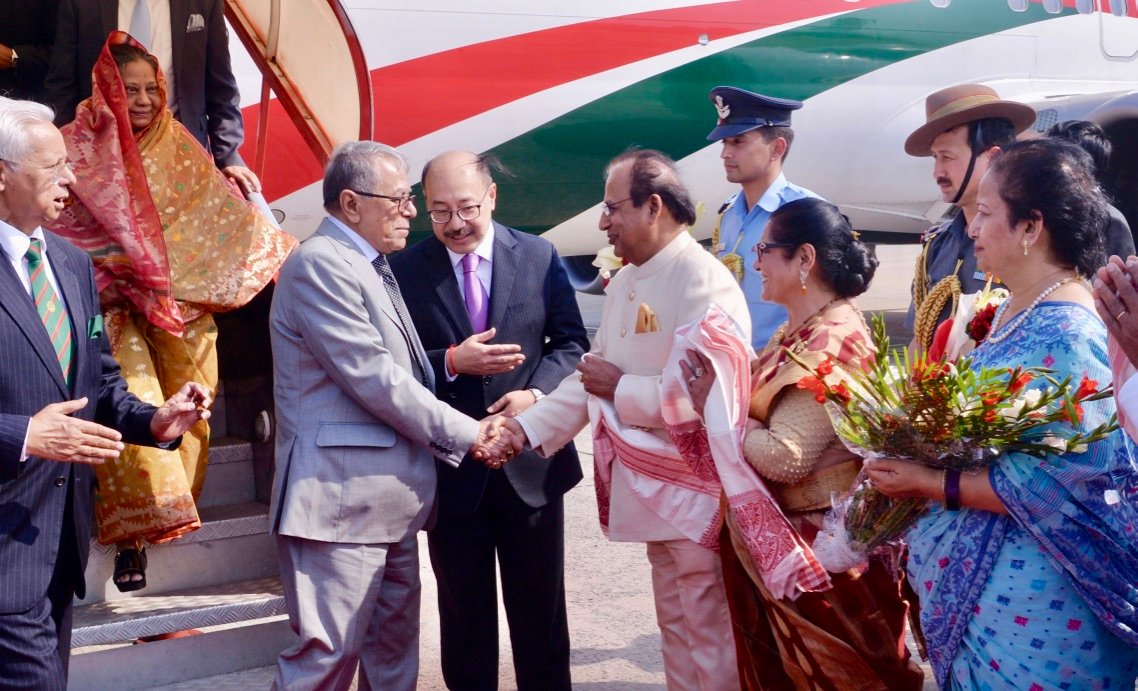 DHAKA, March 8, 2018 (BSS) - President M Abdul Hamid today left Dhaka for Indian northeastern state Assam as part of a four-day visit to attend the "Founding Conference of the International Solar Alliance (ISA) and Solar Summit - 2018" in New Delhi.
A VVIP flight of Biman Bangladesh Airlines, carrying the President and his entourage members, took off from Hazrat Shahjalal (R) International Airport for Guwahati International Airport of Assam at 1:32 pm.
Finance Minister Abul Maal Abdul Muhith, Agriculture Minister Begum Matia Chowdhury, Foreign Minister Abul Hassan Mahmood Ali, dean of the diplomatic corps, cabinet secretary, principle secretary of Prime Minister's Office, chiefs of the three services, foreign secretary, inspector general of police (IGP) and high civil and military officials concerned saw him off at
the airport.
The Bangladesh President will attend the ISA summit scheduled to be held on March 11 in New Delhi, where as many as 23 heads of the states and heads of the government and nine ministerial-level representatives are expected to take part in.
The ISA has become the first treaty-based international and inter-governmental organization to be headquartered in India. ISA secretariat is located in Delhi's neighbouring town of Gurgugram in the state of Haryana.
On November 30, 2015, the International Solar Alliance's initiative was launched at the UN Climate Change Conference in Paris by Indian Prime Minister Narendra Damodardas Modi and French President Francois Hollande with an aim to increase the use of solar energy to reduce pressure on fossil fuels.
The ISA is conceived as a coalition of solar resource rich countries to address their special energy needs and will provide a platform to collaborate on addressing the identified gaps through a common, agreed approach.
A joint declaration will come out from the conference, a foreign ministry spokesman said, adding that this participation would help enhance mutual cooperation among the 121-member countries for mutual gains through enhancing the solar energy utilization. It would also help play an effective role to mitigate the climate change impacts worldwide.
---