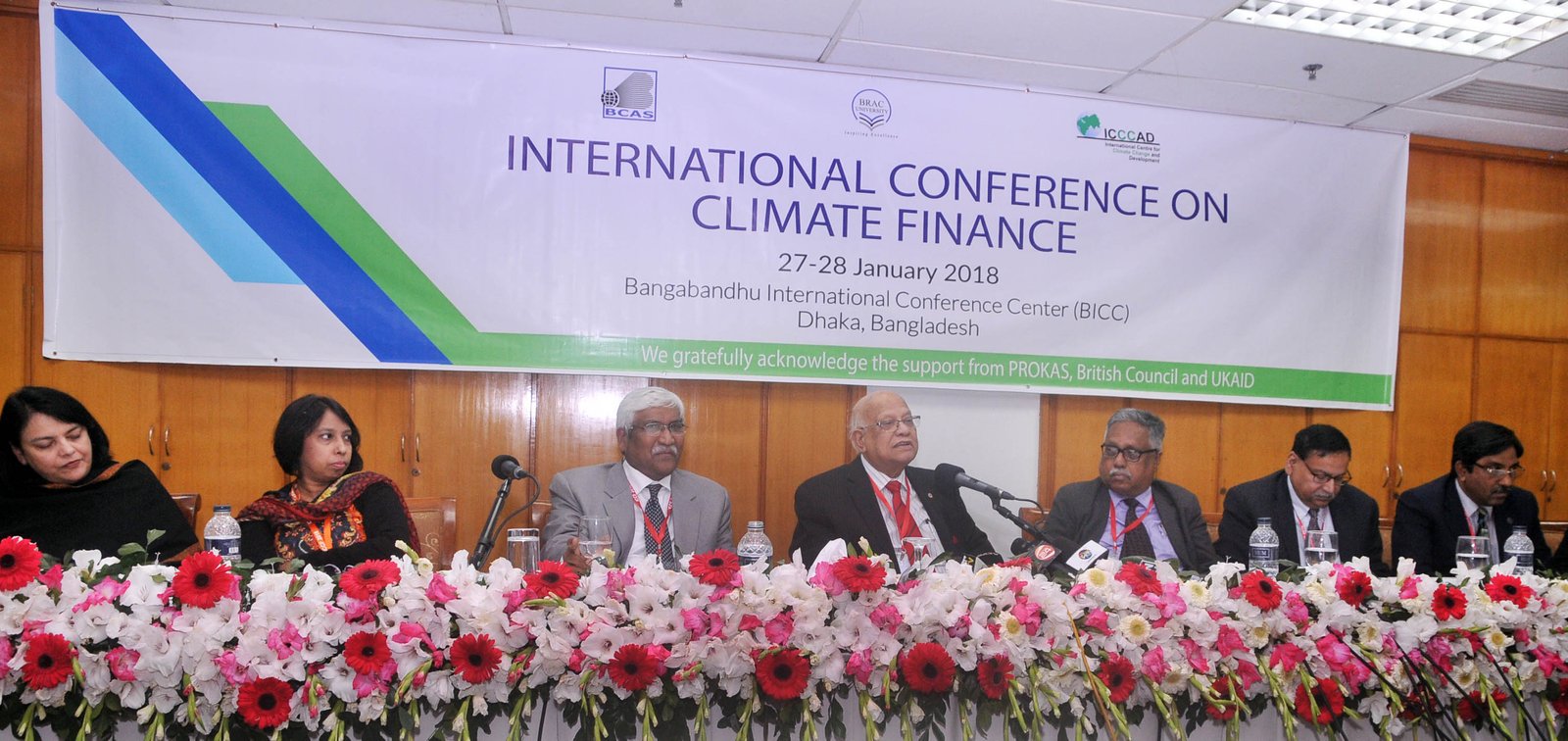 DHAKA, Jan 28, 2018 (BSS) - Finance Minister Abul Maal Abdul Muhith today strongly advocated for developing a permanent system for operations and maintenance of the development facilities and infrastructures in the country.
"We've set up certain facilities for the development purposes. But, the biggest problem is the operations and maintenance of these facilities..........need suggestions on how should we find out some ways for operations and maintenance of the development facilities," he said.
The minister was speaking at the closing session of the two-day International Conference on Climate Finance held at the Bangabandhu International Conference Center (BICC) this afternoon.
Underscoring the need for involving the local communities and the local government institutions to a great extent in the operations and maintenance of these development facilities or infrastructures, Muhith said without involving the local communities, it can not be ensured.
"Now the main subject is how do we have a system to operate and maintain a facility that we've developed, whether this facility is climate change mitigation or adaptation or other development facilities. If you can have a permanent system (for maintenance and operations), then it will be a big solution for many of the problems in the country," he added.
Asserting that the reduction of poverty would continue to be the first objective of this government in the days to come, Muhith said there is no other alternative to that.
He mentioned that still 30 million people live below the poverty level in the country: "It should be brought down to 10 million," saying that there would always remain some people who are old-aged, mentally or physically challenged or widowed.
The Finance Minister also reiterated that by 2024, Bangladesh would become a country without poverty. Referring to the suggestion on setting up a loss and damage fund for climate change, he said the government could work on it terming it as a good suggestion.
Muhith also claimed that the operations of the Climate Change Trust Fund and the Climate Change Resilience Fund are going on well in the country. He said that the overall situation of the country including on climate change adaptation and mitigation is not so hopeless as Bangladesh has done quite well in some sense. "We've been going up in the ladder of economic progress," he added.
Bangladesh Centre for Advanced Studies (BCAS), Centre for Climate Change and Environmental Research (C3ER) at BRAC University and International Center for Climate Change and Development (ICCCAD) at Independent University Bangladesh organised the conference.
Chaired by executive director of BCAS Dr Atiq Rahman, the concluding session was addressed, among others, by Planning Commission member Dr Kamal Uddin Ahmed, Metropolitan Chamber of Commerce and Industries (MCCI) President Nihad Kabir, Prof Emeritus of BRAC University Dr Ainun Nishat, and Director of ICCCAD Dr Saleemul Huq.
---