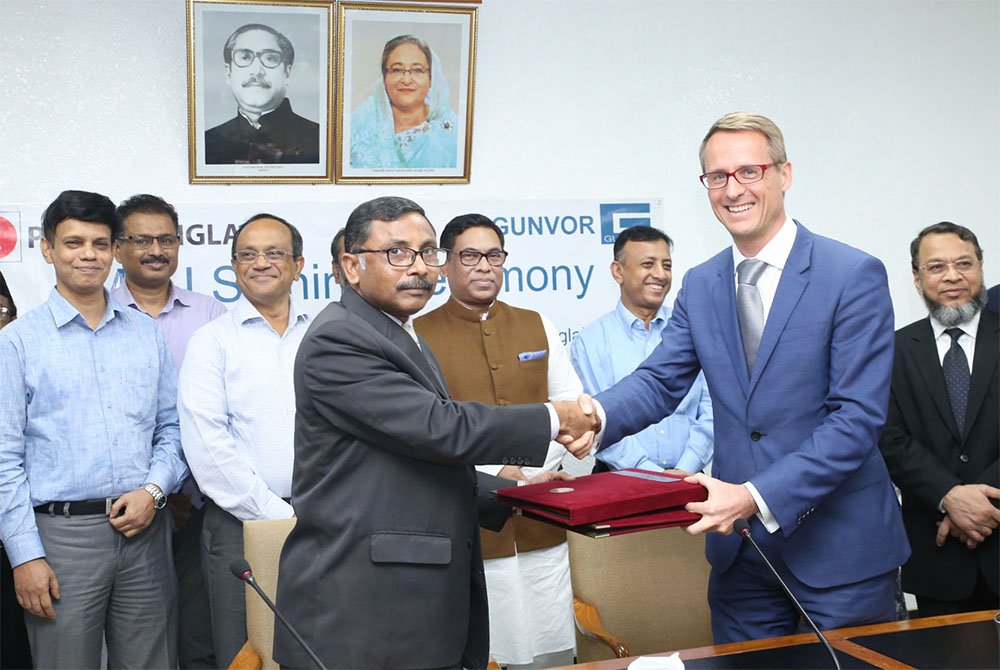 DHAKA, Sept 19, 2017 (BSS) - State Minister for Power, Energy and Mineral Resources Nasrul Hamid today said the government would ensure energy security by supplying primary energy continuously.
"Mixed gas will be supplied to the industries by mixing LNG with natural gas that would lead to slight price hike but would be more profitable for the businessmen," he said.
The state minister said this at the signing ceremony of a Memorandum of Understanding (MoU) between the Petrobangla and the Gunvor on cooperation of LNG procurement for Petrobangla at Petrocenter in the city.
He said the gas crisis in the country would be reduced from April next year.
The state minister said the government inked deals with Rasgas of Qatar, Oman Trading International of Oman, Pertamina of Indonesia and Astra Oil Trading of Switzerland for purchasing Liquefied Natural Gas (LNG).
Besides, 41 companies expressed their interest for LNG purchase from spot market and the Masters Sales Procurement Agreements (MSPA) would be signed after preparing the panel, said Nasrul.
He said in the first phase, 500 mmcfd LNG will be used in Chittagong region from April 2018, while 500 mmcfd LNG would be supplied for the middle part of the country from October 2018 in the second phase.
Secretary of the Petrobangla Syed Ashfaquzzaman and Head of LNG-BD Asia of Gunvor Singapore Pte Ltd Luc Speeleveled signed the MoU on behalf of their respective sides.
Among others, Secretary of Energy and Mineral Resources Division Nazimuddin Chowdhury and Petrobangla chairman Abul Mansur Md Fayzullah spoke at the function.
---