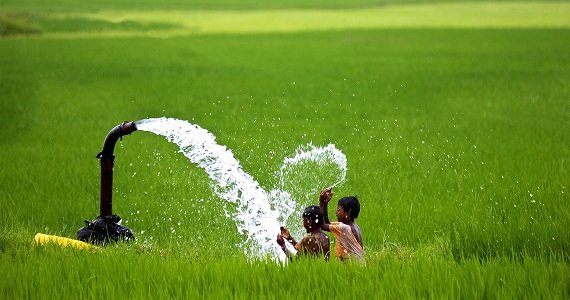 Mamun Islam
Rangpur, June 16, 2017 (BSS) - The electricity-run irrigation system are making farm activities more profitable by reducing crop cultivation cost and increasing food production in the district.
"Electricity-run 912 deep tube wells (DTWs), 16,751 shallow tube wells (STWs) and five low lift pumps (LLPs) are providing irrigation to some 65,000 hectares of land in Rangpur district," said Deputy Director of the Department of Agricultural Extension (DAE) SM Ashraf Ali recently.
Besides, he said the farmers are using four diesel-run DTWs, one solar power-run DTW, 56,131 diesel-run STWs, 65 solar power-run STWs and 20 diesel-run LLPs here for irrigation on over 68,000 hectares of land.
The farmers are getting electricity-run irrigation facilities using own irrigation pumps and DTWs, STWs and LLPs being managed by Bangladesh Agriculture Development Corporation (BADC) and Barind Multipurpose Development Authority (BMDA).
The Rural Electrification Board (REB) through Palli Bidyut Samity (PBS) and Northern Zone Power Distribution Company Limited are providing electricity to irrigation pumps.
Expanding use of electricity-run irrigation facilities helped the farmers in producing 13.34 lakh tonnes of potato in 2017 against 11.52 lakh tonnes in 2016, three lakh tonnes vegetables in 2017 against 2.52 lakh tonnes in 2016 in the district, he said.
"Despite discouraging cultivation of high-irrigation water consumption crops, the farmers produced 5.44 tonnes of Boro rice in 2017, 5.46 lakh tonnes in 2016 and 5.61 lakh tonnes of Boro rice in 2015 here," Ashraf added.
Talking to BSS, farmer Ariful Haque Batul of village Najirdigar under Sadar upazila said he cultivates Boro rice and other crops on his 3.50 acres of land using own electricity-run irrigation pump.
Ariful spends Taka 3,000 per acre of his sandy land for cultivating Boro rice using one electricity-run irrigation pump while other farmers are spending up to Taka 10,000 per acre there using own diesel-run STWs.
"The REB through Rangpur PBS-1 supplies electricity to my irrigation pump at Taka 3.82 per unit with 20 percent subsidy on total bills," he said, adding that he also cultivates potato, vegetables and other crops on his land.
Abul Hossain of village Tahirpur under Mithapukur upazila said he
cultivates Boro rice in his one acre of sandy-loamy land using prepaid
digitised card to avail irrigation water being supplied from DTW by BMDA.
"I spend Taka 2,100 per acre of land for cultivation of Boro rice while irrigation cost is much lower for cultivation of potato, vegetables, maize, aus rice and other crops using irrigation water of electricity-run DTW," he said.
Executive Engineer of BMDA Reza Md Nure Alam said farmers are getting irrigation facilities at Taka 100 as surcharge for per hour irrigation using digitised prepaid cards from 674 electricity-run DTWs being managed BMDA in the district.
"We provide irrigation to 12,599 hectares of land for Boro rice
cultivation, 208 hectares for wheat, 3,633 hectares for potato, 652 hectares for maize, 268 hectares for mustard, 19,062 hectares for aus and 1,606 hectares of land for cultivating other crops," he said.
Farmer Mahbub Hossain of village Rajib under Kawnia upazila said he
cultivates Boro rice and other crops in his one acre land as a member of local Farmers' Group using irrigation water from the rental DTW of BADC under a scheme in the village.
"Irrigation cost for cultivation of Boro rice stands around Taka 2,000 to 2,200 per acre under the scheme where various other crops are also being cultivated on total 120 acres of land," he said.
Assistant Engineer of BADC Shahe Alam said the organization provides irrigation facilities with their 230 DTWs, 22 STWs and six LLPs through the farmers' groups under different schemes on rental basis across the district.
Superintending Engineer of REB here said farmers are getting 20 percent government subsidy on bills for consumption of electricity being provided by PBS to irrigation pumps for enhancing food production at reduced costs.
Executive Engineer of the Northern Zone Power Distribution Company Limited Golam Mortuza said the company provides electricity to irrigation pumps at Taka 3.82 per unit rate against production cost of around Taka eight per unit.
---