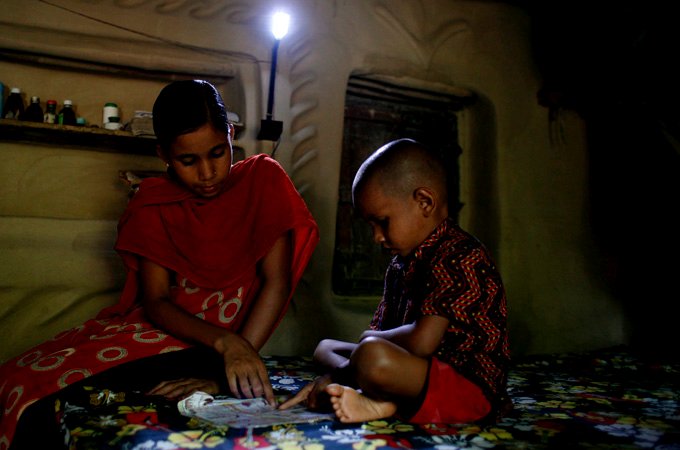 AKM Kamaluddin Chowdhury
Dhaka, June 14, 2017 (BSS) - The country's power sector showed a rapid growth in the recent years, with currently providing 80 percent of the country's total population effective access to electricity, according to official sources.
The latest data of Power Division of the Ministry of Power, Energy and Mineral Resources showed that the number of electricity customers rose to 2.49 (20.49M) crore in 2017 from 1.08 (10.08 M) crore in 2009.
Nearly 4.5 million households in remote areas across the country also got solar power system in the past few years.
The 20.49 million customers together with the 4.5 million home solar systems effectively made electricity available to 80 percent of the country's total population, said a Power Cell official.
For providing more people with electricity, the power generation and supply authorities significantly increased the generation, expanded distribution lines and cut system loss, the official said.
The electricity generation capacity rose this year to 15,379 megawatts (MW) with 2,300 MW captive power from 4,942 MW in 2009 when the per capita power generation surged to 407 kWh (Kilowatt-Hour) from 220 kWh. The distribution lines also expanded to 1.41 Lac kilometers.
The daily power generation hit the record high at 9,471 MW on May 27, 2017, Director General of Power Cell Engineer Mohammad Hossain said.
He said the system loss during this period also declined to 13.10 percent from 16.85 percent with effective monitoring.
He said the government set a target of generating 24,000 MW power by 2021.
To achieve this goal, 34 power plants would come into operation from 2017 to 2021, adding 11,363 MW to the national grid.
Tender process has been initiated for another 34 power plants having a total capacity of 4,917 MW. These plants are expected to start operation from 2018 to 2023.
The government has also a plan to construct 11 power plants with a total capacity of 6,415 MW.
Apart from increasing domestic generation capacity, the government would import more power from neighbouring countries, Hossain said.
"Talks are now going on for importing electricity from Nepal and Bhutan besides India," he said.
The official said Sandwip upazila and some others islands and chars would be supplied electricity by setting up about 80-kilometars submarine cable in the Bay.
---