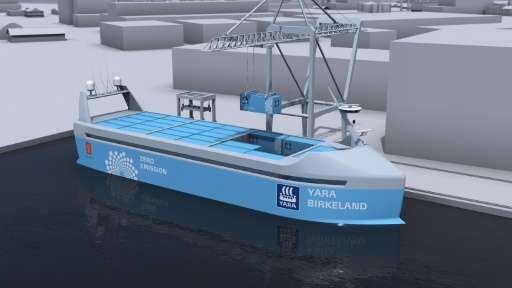 Norway plans to launch the first autonomous and fully electric cargo ship next year that the project's backers said recently will save 40,000 truck journeys per year.
Fertilizer company Yara International has teamed up with industrial group Kongsberg to build the Yara Birkeland, which will haul fertilizers between three ports in southern Norway.
With a range of more than 65 nautical miles, the ship will be able to haul roughly 100 containers at a speed of 12 to 15 knots, according to the project's director, Bjorn Tore Orvik.
Initially the ship will be manned, but remote operation is expected to begin in 2019 and fully autonomous operation in 2020, the companies said.
"Every day, more than 100 diesel truck journeys are needed to transport products from Yara's Porsgrunn plant to ports in Brevik and Larvik where we ship products to customers around the world," Yara's chief executive Svein Tore Holsether said in a statement.
---
---