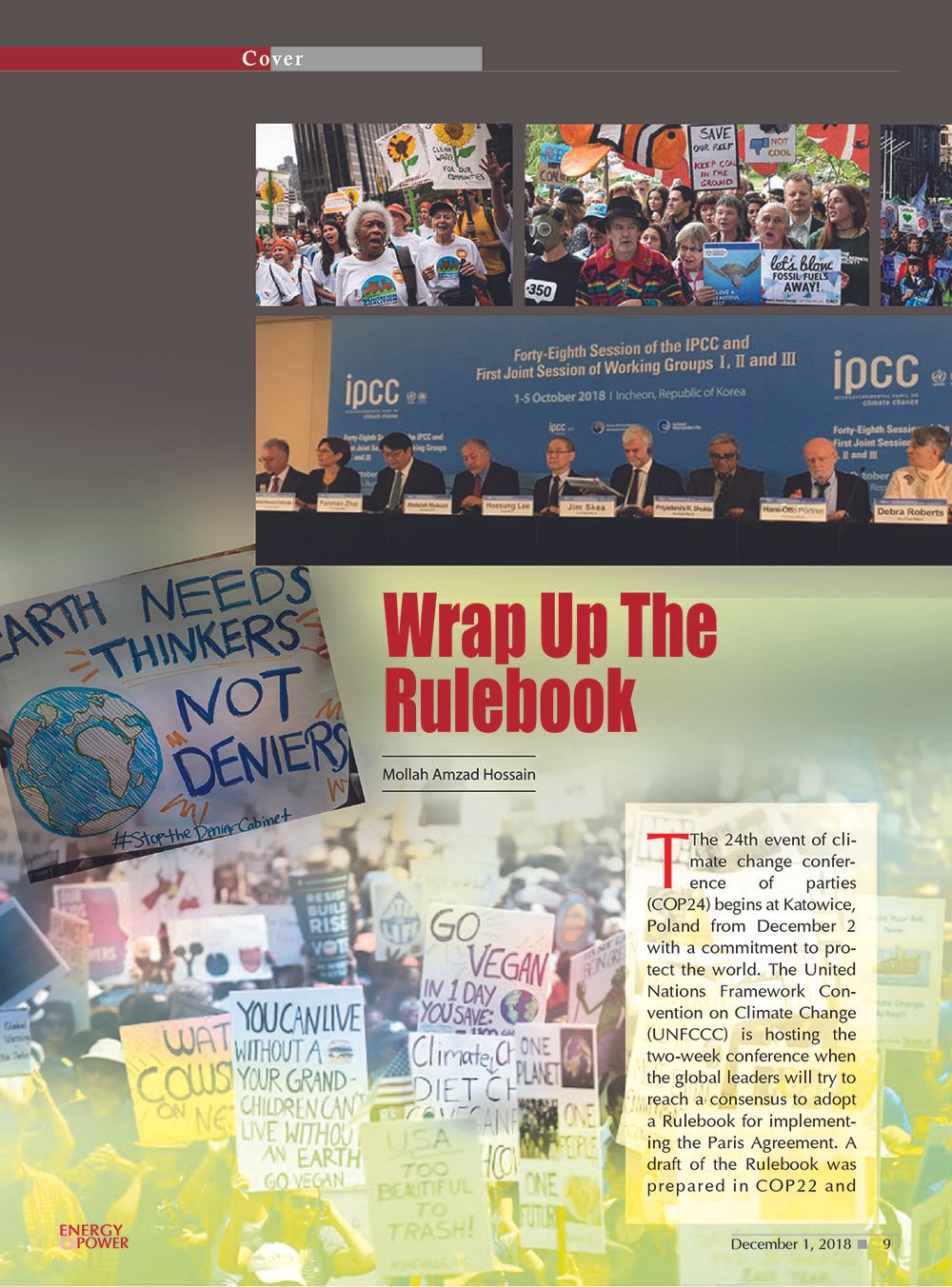 4th December 2018
Mollah Amzad Hossain
The 24th event of climate change conference of parties (COP24) begins at Katowice, Poland from December 2 with a commitment to protect the world. The United Nations Framework Convention on Climate Change (UNFCCC) is hosting the two-week conference when the global leaders will try to reach a consensus to adopt a Rulebook for implementing the Paris Agreement. A draft of the Rulebook was prepared in COP22 and COP23 with a view to approving in the COP24. There are still some issues in which opinion differs, but all the stakeholders are optimistic about reaching a meeting of minds for approving and adopting the Rulebook. A senior representative of Bangladesh delegation informed the Energy & Power that it would not be possible to launch initiatives by different countries for implementing the Paris Agreement from 2020 through amending and adjusting laws and regulations unless the Rulebook is approved in 2018. Meanwhile, the progress of mobilizing the necessary fund, Green Climate Fund (GCF) of US$ 100 billion, to implement the agreement is so far being considered to be frustrating, which has aggravated further following the USA's pulling out of the agreement.
The Paris Agreement was adopted in COP21 to replace the Kyoto Protocol (KP) -- a legally binding emission reduction commitment by the developed nations. The then number one emitter, USA, never ratified the KP and rendered it virtually ineffective despite the fact that the European Union lived up to its reduction commitment. The developing countries, including major emitters like China, India, Brazil and South Africa, were exempted. Finally, the Paris Agreement was adopted under which all countries pledged to comply with their submitted Nationally Determined Contributions (NDCs) to bring down the global temperature rise to 1.5 degrees Celsius or well below 2 degrees C. The developed countries, which are expected to lead the process, will focus more on the review and transparency mechanisms to ensure compliance to the submitted NDCs by the developing countries.
The countries have already submitted what they need to do for controlling the GHG emission, finalizing their respective NDC. The Rulebook would ensure the features of NDC and would prescribe the information and accounting process. A tracking framework for monitoring performance of achievement of NDC envisaged targets would also be embodied in the Rulebook. The provision of stocktaking of NDC after every five years will also be there. Monitoring of NDC implementation would start under a framework from 2023. A compliance mechanism would be finalized, approved and adopted. A committee would monitor the implementation.
According to a provision, the developed countries would provide required financial supports to developing countries for contributing to limit the global warming. But a quantitative and qualitative report about modus operandi of this support requires providing in every two years of frequency. The Rulebook will have clear guidelines about the process of submitting the report. There are, however, doubts over the possibility of it getting approved in the COP24. Efforts are going on for making the developed countries agreeing to this.
Although the main effort is to formulate a common rule, major polluting countries among the developing ones like India, China, Brazil and Saudi Arabia are joining different camps while countries like USA, Canada and Australia are not interested about too many rules. They are also saying that though their per capita emission is higher, yet the total emissions by China, India are much greater. So these countries must be treated as polluters and rules must also include them for contributing financial support to other developing countries. But Bangladesh is in a common forum like the groups of least developed countries and climate vulnerable countries. Bangladesh is saying that though it lacks capacity, it is in favor of a common rule. Bangladesh wants countries like it must get some exemptions from the common rule.
Environment expert Dr Mushfiqur Rahman said financing and transfer of technology are two essential requirements for successful implementation of the Paris Agreement. The GCF must have pledged US$ 100 billion by 2020. But till the end of 2018, the situation is frustrating. Moreover, US President Donald Trump immediately after assuming office has taken side with fossil fuel group through announcing his decision to move out of the Paris Agreement. Consequently, major polluting countries, especially those under European Union, have become reluctant in proving fund for emission control.
On the other hand, the developing world continued relying on fossil fuels for maintaining momentum of their economic growth and development going. But these countries need financing and technology transfer for achieving energy efficiency in fuel use. Developing countries cannot control carbon emission if the developed countries do not provide the support.
Environment experts at a recent seminar in Dhaka spoke about the role of Bangladesh delegation in COP24. The government has also presented their position.
COAST Trust Deputy Director Syed Aminul Hoque said the COP24 is very important for the country to uphold its interest. "Our delegation should negotiate boldly to ensure easier and effective access to these support mechanisms," he added.
Dr Hasan Mahmud, chairman of the parliamentary standing committee on ministry of Environment, Forest and Climate Change, alleged that the industrialized and developed countries have been neglecting the carbon emissions and that is why the temperature is rising alarmingly. He urged the Bangladesh delegation to raise voice for imposing a legally binding commitment against the biggest emitters to keep the global warming well below 2 degrees Celsius.
Seminar chair Dr Qazi Kholiquzzaman, chairman of Palli Karma-Sahayak Foundation (PKSF), said the success of climate negotiation outcome could be threatened as the politics behind the scene is stronger than the temperature goal. "We should boost our own financial capacity to face the challenges," he added.
Dr. Ainun Nishat, Professor Emeritus of BRAC University, said the government should take the civil society's recommendations during policy implementation. He urged the government to raise its voice on the issues of capacity building at the COP24.
Dr. Munjurul Hannan Khan, additional secretary of ministry of environment, forest and climate change, said the country has been playing a good role since starting the climate negotiations and there is effective coordination between CSOs and the government over this year's conference.
Bangladesh has already finalized its Nationally Determined Contribution (NDC) to reduce carbon emission. At the same time, the Ministry of Power, Energy & Mineral Resources has finalized the NDC work plan for controlling emission. Bangladesh in its NDC committed to reduce emissions by 5% until 2030 using its own resources despite having no obligation for it. Subject to availability of global support, the emission could be reduced up to 15%. For implementation of the action plan, three priority sectors -- power, transport and industry -- have been finalized. Global financial support has not been committed yet. But Bangladesh has kept the momentum going for reducing the emission using its own finance.
The carbon footprint of Bangladesh in the context of global GHG emission is negligible. It is even less than 0.35%. But Bangladesh is among the most climate vulnerable countries. The country, despite having its limitations, is working with commitments to contribute to reduce global warming to 1.5 degree or well below 2 degree Celsius by 2100. According to different estimates, the country lost at least 0.5-1% of GDP due to adverse impacts of climate change over the past 40 years. In financial terms, this loss is over US$ 12 billion.
The global average per capita carbon emission is 4.5 tonnes while it is only 0.5 tonnes for Bangladesh. These are 16.5 tonnes in USA, 7.5 tonnes in China and 1.7 tonnes in India. Consequently, as per the historic Paris Climate Conference Agreement, Bangladesh has no obligation for reducing emissions. The country invested huge amount of money in the mitigation measures over the last few decades.
The country will have to undertake massive industrialization initiative for achieving the national goal of becoming mid-income country by 2021 and developed economy by 2041. The services sector would also advance. According to Department of Environment (DOE), Power, Transport and Industry sectors would contribute 69% of future GHG emissions and would grow to 264% by 2030. The present annual carbon emission is 64 million tonnes. In 2030, it may grow to 234 million tonnes. Bangladesh in its NDC document mentioned that with its own investment, this can be reduced by 5% or 12 million tonnes by 2030. If pledged international assistance is available, the reduction can be 15% meaning 36 million tonnes.
The national action plan has focused on emission reduction from power, transport and industry sectors through increasing efficiency and better management. Energy and environment analyst Professor Dr Ijaz Hossain, who is the Head of Chemical Engineering Department of BUET and was involved in formulation of NDCs (Nationally Determined Contributions) and NAP (National Action Plan), informed the EP that there is a plan for reducing emissions by 18% from power, 24% from transport and 10% from industrial sector through investing own money. This would reduce overall emissions by 5%. But availability of pledged international technological and financial assistance would make it possible to reduce the emissions by three times.
The government is working on an action plan with an investment of US$ 27 billion for a period of 2011-2030. The main investment is taking place in super critical and ultra-super critical technology of coal-fired thermal power generation. A decision has also been taken for an additional investment of US$ 16.5 billion for the application of ultra-super critical technology instead of sub-critical technology. The works of at least two 1,320 MW each power plants have advanced considerably. These two plants would come into operation between the years 2019 and 2021. Besides, other investments would be made on renewable energy generation. The NDC does not include any plan for reducing emissions in industrial sector. The government has announced investing US$ 2.65 billion for reducing emissions from road transport sector and US$ 2.70 billion for reducing emissions from mass transit project.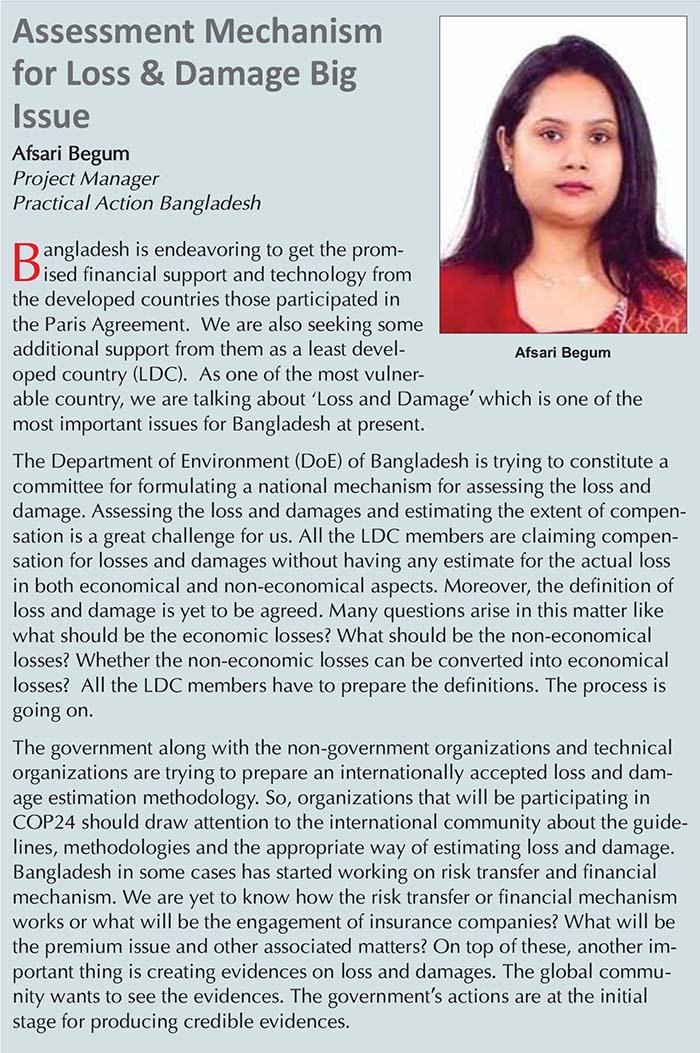 Experts appreciated the plans and initiatives for low carbon development, but expressed concern over the implementation issue as the government has so far failed to implement the plans everywhere – power, transport and industry sectors. Of course, Bangladesh is at its preliminary stage only. If the plan with own investment can be implemented, more than 5% targeted emissions reduction would be possible by 2030.
Power Sector
The present installed capacity of power, including 2,800 MW of captive capacity, is 17,340 MW. Other than 2,500 isolated chars and villages, 100% population of Bangladesh would come under the power coverage by 2019. According to the government plan, the installed capacity would be 24,000 MW in 2021, 40,000 MW in 2030 and 60,000 MW in 2041. Captive power plants are the most fuel-inefficient ones. These are only 30% efficient. Emission is also the highest in this case. The efficiency of power plants connected to Bangladesh power grid (34%) is not also high enough in the world context. However, gas turbines having 58% efficiency have already been added in the system. At least two such power plants are operating at this level of efficiency. The government has planned to improve the average efficiency to 50% for all plants by 2030.
According to the power generation plan finalized by Power Division in January 2018, the net generation capacity projected for 2030 is 55,199 MW. Of this, gas/LNG-based power plants capacity would be 22,247 MW and all these would be using updated modern technology. Some 5,726 MW would come from diesel and furnace oil. Most of these would be engine-based generation. Coal-based power generation would be 20,978 MW and all these would be either super critical or ultra super critical technology based. Some 3,836 MW would be imported from regional countries. It is not yet sure how much would come from hydro power plants. Nuclear power would contribute 2,232 MW and this would be 100% carbon neutral.
Only one subcritical technology using coal-based low-efficiency power plants emits 1,200 grams of carbon for every kWh it generates. Emission would be reduced to 700-800 gm when super critical and ultra super critical plants come into operation. Generation from liquid fuel is on the rise. For these plants, the emission is 800 gm per unit. This is equivalent to a high technology using coal power plant. Considering the 34% efficiency of the present gas-based plants, the emission is 550 grams. Higher technology application would bring down emission to 350-400 grams. Sources at Bangladesh Power Development Board (BPDB) said that by 2041 the existing gas turbine peaking power plants would be replaced by 200-250 MW capacity combined cycle power plants. By 2041, leaving 1% of the liquid fuel-based power plants, all other plants would be phased out. The power plants will start reducing the emission effectively from 2030 and by 2041 further reduction would be possible.
Waste Heat Recovery Plan
The government is working on a plan for waste heat recovery. A feasibility study is going to be conducted to see whether the recovered waste heat of grid power plants can be used for industries. On the other hand, use of recovered heat from captive power plants in industries has started. Many industries are now making efficient use of fuel adopting cogeneration and tri-generation methods. Bangladesh Energy Regulatory Commission (BERC) is considering to making the provision mandatory for captive power generation.
Some export processing zones (EPZs) in the country have own generation plants. The possibility of selling this recovered waste heat to steam-using industries is being considered. It would be made mandatory for all the 100 new Special Economic Zones (SEZs) now at different stages of implementation. Experts say successful implementation of the plan would bring great success in emission reduction.
Energy Efficiency Other Than Industries
Bangladesh is heading towards achieving major success in lighting-load reduction. The government has created the momentum during 2009-2014 term when in two days only it could replace 20 million incandescent bulbs all over the country with free CFL bulbs. Use of LED bulbs as a follow up is making wonder in reducing the lighting load. Sustainable and Renewable Energy Development Authority (SREDA) expects the trend may help reduce the lighting load by 60% by 2021.
Bangladesh Standard and Testing Institute (BSTI) started working on leveling and standardizing all appliances. Works are in progress for fans, refrigerators, air conditioners and motors. Energy rating regulation of SREDA is at its final stage. It expects that within the next few years star labeling could be made mandatory after ensuring standardization. Energy ministry has requested the finance ministry to adjust duty and tax rates for encouraging use of fuel-efficient appliances. It is expected that by 2021 the use of energy-efficient home appliances may also be ensured. It will also make great contribution to reducing carbon emission.
Energy Efficiency Roadmap
Renewable Energy
The draft of the new power system master plan (PSMP 2016) provided for achieving 40,000 MW power generation capacity by 2030. The government is not following that target, however. But even now, the renewable energy generation target remains at 10% meaning 2,000MW by 2020. The government is working on a plan for generating 2,896 MW of renewable power. Experts observe it would not be achieved though the government is optimistic about it. Renewable energy capacity would now be 505 MW, including 230MW of hydropower. Solar contributes 271 MW and wind energy is merely 3 MW.
The government plan states about 1,470 MW of generation from grid-connected solar by 2020. Some 1,153 MW is the target for wind power. Around 30 MW would come from biomass and 7 MW from biogas. Around 4.6 million families could be served by solar home systems (SHSs) as non-grid supply. This is considered as a milestone achievement and earned global accolades. Many countries are following the commercial model of Bangladesh. By 2020, it is expected to bring 5.2 million families under SHSs. The generation capacity would grow to 218 MW. But the program is almost stalled now for countrywide grid coverage.
Using loans from Infrastructure Development Company Limited (IDCOL), 11 solar mini grids are now in operation in the country. The capacity is 2.19 MW. There are plans for another 61 mini grids.
Besides, the government has major plan for grid connected solar power generation. Several contracts have already been concluded for about 400 MW of grid-connected solar. But till now only grid-connected solar is of 3MW. Experts are extremely concerned about success of grid-connected solar.
Wind power is now generating only 3 MW now. For achieving the target, 1,150 MW more power needs to be generated from wind. Dr Ijaz Hossain finds no major possibility from wind in Bangladesh. Some contracts for wind power generation have already fallen flat. Wind mapping has recently been completed.
Irrigation is very important in an agriculture-dominant country. Around 1.4 million diesel-run irrigation pumps are in operation. The government has plans for converting all of these into solar ones. More than 1,000 solar pumps have already been installed with the financial assistance of IDCOL. Work is advancing for setting up of 50,000 solar irrigation pumps by 2025.
Industry and Low Carbon Growth
Competition in the world market and rise in fuel price internally has induced industrialists adopting the option of efficiency for remaining competitive. SREDA under the energy efficiency roadmap has also started working. They are expecting that 31% power and energy conservation can be achieved in the industry sector by 2030 through ensuring efficiency. While drawing attention, Siddique Zobair of SREDA told the EP that multi-dimensional initiatives have been planned for achieving efficiency in industry sector. Energy Auditing is one of these. It is almost ready to be launched. Within a year or two, annual or bi-annual energy auditing for industries would be made mandatory. Large Industries would require taking actions according to findings of audit reports for improving and ensuring efficiency. It may not be made mandatory for medium and small industries. But they would be given assistance under this program for increasing efficiency. The works for making industry sector energy-efficient needs sizable investment. A fund of US$100 million has been created with JICA assistance for this. IDCOL and BIFFL have started giving loans to industries from this fund. Initiative has also been taken for setting up solar panels on the rooftops of large industries for helping them achieving energy efficiency.
A net-metering policy is now at its final stage by SREDA for grid access of rooftop solar. When it starts in one year, 50 MW power would be available from rooftop solar. The price per unit of power for industries is now Tk 10. Rooftop solar power can be supplied at Tk 9.0. Introduction of the net-metering system would let industrialists exchanging grid and rooftop solar power as and when they need. Bills would be adjusted considering the power exchanged from and to the grid. It will act as financial relief of the industries and help them getting greener.
Prof Ijaz thought provision for engaging energy manager in each industry should be made mandatory. Bangladesh has just started its journey on the highway of energy efficiency. Works must be better coordinated.
Brick kilns are another area of pollution and emission. Initiatives for modern technology-based brick manufacturing are not visible in Bangladesh. Money set aside in annual budget for this remained unutilized. BIFFL has undertaken a survey on brick -fields. Appropriate actions, if taken, based on this can ensure emission control.
SREDA is optimistic that by 2030, it will be possible to achieve 31% energy saving and conservation.
Transport Sector
Bangladesh is lagging far behind in terms of transport sector achieving low carbon development. The NDC and NAP would clarify how emissions can be reduced through increasing efficiency in the transport sector as soon as possible. There are plans for constructing elevated express highway and Mass Rapid Transit in Dhaka. But actually the transport speed all over the country is reducing day by day for worsening traffic gridlocks. The gridlocks have extended to intercity highways from the cities. Infrastructure development is getting delayed.
The government has a plan for transferring 20% passengers load from road to railway. A huge investment has been made in rail system development. The year 2030 is 12 years away. But a considerable doubt has been there if Bangladesh can at all achieve the target.
Conclusion
Intergovernmental Panel on Climate Change (IPCC) in its recent report mentioned that it might be possible to restrict global warming below 2 degree Celsius or even 1.5 degree in the next few years. But global warming may increase by 2.7-3.0 degrees in the following decades. Countries need to step up their mission for restricting the warming for achieving the GHG emissions control as pledged in the Paris Agreement. Global scenario of NDC and honoring pledges of developed countries for providing financial support to the developing countries in combatting emissions is very frustrating. Against the pledged US$ 100 billion fund for GCF by 2020, the commitment so far stands at only US$ 10.6 billion and fund transferred is only US$ 41.6 billion, creating frustration among the countries.
If the COP24 has to ensure commencement of global warming control initiative in full swing from 2020, the Rulebook must have clear and unambiguous agreement on adaptation, mitigation, financing, capacity development and technology transfer. Without any doubt, it is a huge challenge. Bangladesh has no obligation in accordance with the Paris Agreement. Still Bangladesh is working sincerely for contributing to save the world. Prime Minister Sheikh Hasina has made it clear that Bangladesh cannot go for 100% emission control for the interest of its economic development. But said the country is very much concerned about it. "We are doing our best in reducing and limiting emissions as much as practical. We pledge that our average emission would remain below the level of the developed countries."
---