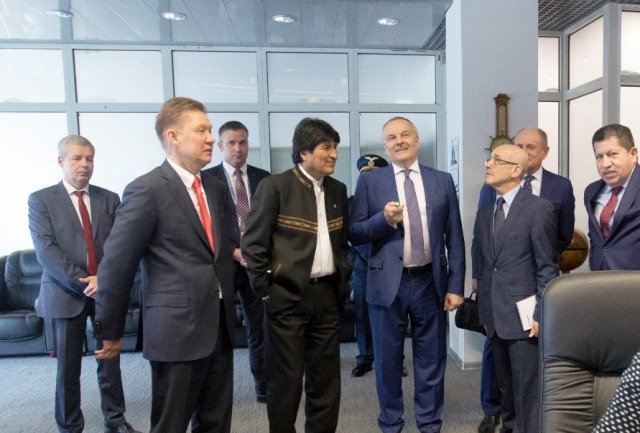 Under the framework of the vehicle energy grid change strategy, the Minister of Hydrocarbons Luis Alberto Sánchez signed an agreement with Gazprom, through its subsidiary Exiar, for the management of a finance scheme sector that will allow the supply of up to 20,000 Russian public transport vehicles powered by natural gas to Bolivian transport sector.
In this regard, Sanchez said: "The change in Bolivia's energy grid is a project that has been promoted for many years, through which 400,000 gasoline vehicles have been converted to CNG. The second phase of this project involves the conversion of public transport vehicles from diesel vehicles to LNG and CNG, and for this we are looking at a Russian credit for the purchase of 20,000 buses. The credit will be granted by Exiar directly to the carriers and thus they will be able to acquire new vehicles with CNG or LNG systems from the factory."
Also during Evo Morales' visit to Russia, the presidential entourage visited Gazprom facilities and was received by the company's CEO Alexey Miller, according to Ministry of Hydrocarbons of Bolivia.
After the tour, Gazprom signed an agreement with Bolivia to invest USD 1,200 million in the exploration of the Vitiacua field and left open the possibility to make other investments not only in exploration of fields, but in rehabilitation of others fields, Morales said.
---